Soccer season is almost here!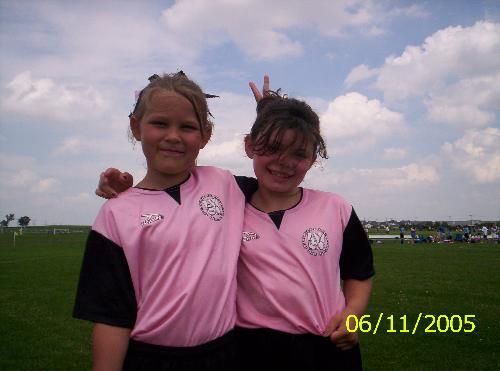 United States
March 27, 2007 8:14am CST
I am getting so excited! The AYSO season starts April 23 here, and I know it's a few weeks away but I am getting so amped! My hubby is coaching a U5 team this year for my middle child and I'm taking a step back and assistant coaching for my oldests U12 team. I took a full time position on the board this year, so with meetings, organizing teams, etc...it's been chaotic. But I have to say I'm loving every minute of it! There's just something about our soccer facility that relaxes me. Over 50 fields, right on the river, and the smell of fresh cut grass and children yelling makes me so happy! Is there any activity you or your child participate in that "awakens" you after a long winter? Why or why not do you look forward to it?
2 responses

• Canada
28 Mar 07
I am signing my 2 kids up for soccer tonight, but they won't start playing until mid May. My son is 6 and is so excited becasue this is his first year on a big kid team. My daughter is 8 and has played for 3 years. Your soccer facility sounds really nice. We live in a small town and have to travel to nearby towns for 75% of our games. The towns are about 15-20 minutes away so it's still not too bad especially in the nice weather.

• United States
28 Mar 07
They did this crazy computer selected teams this year instead of just organizing them by geographical location so it should be interesting. We have kids spread all over the county, which makes it difficult for practices. We 're trying to adopt a "you can make it to games here, you can make it to practice here" philosophy this year, but with the high demand of the soccer facility we're having a hard time getting a field to practice on. I hope it works out. I'm assisting for a newbie coach in AYSO this year, so I told him that he can't keep everyone happy.

• United States
27 Mar 07
Your kids play spring soccer? Unforunately we only have the fall season. We start gatting every thing rolling now. 50 fields now that's quite a league. My girls are not into spring sports. So we just do fall soccer and football last year. But I still enjoy it. I usually have to coach my older daughter's teams, she'll be U15 this year. I'm hoping she makes the high shcool soccer team so I can coach or help coach my younger daughter's team this year, she'll be in U13 this season. I like seeing the kids come together as a team. Girls who generally don't get along seem fine together on the feilds. I just enjoy seeing the kids enjoying themselves and having fun.

• United States
28 Mar 07
We have over 2500 kids registered this year for U5-U19. I know my daughter has made friends she never would've made before too. It's nice to see them work together and develop a bond.