Ex-partner's picture on his wallet..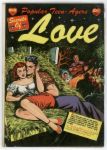 Philippines
March 27, 2007 11:23am CST
What would you feel if you saw his ex-girlfriend's picture in his wallet? If I'm caught with that situation, I only have 1 thing to say, "This WORLD WAR III" =)
3 responses

• United States
28 Mar 07
I think a discussion with him is in order about why he still carries the ex's picture in his wallet and how it is making you feel. The strength of your relationship will be seen in how he takes your feelings into account and removes it from his wallet. If he apologizes and throws it in a box in the back of his garage or closet, then I think your relationship will survive this little hiccup. If he refuses to remove it, belittles your feelings by claiming you are overreacting, or if you sense any hesistation to give you reassurance that he will do the right thing then this may be a guy who has not moved on emotionally from that past relationship and still harbors feelings for her. You would then have to decide if you want to be with a guy who still has another woman in his heart. All the best, Zuri http://askzuri.blogspot.com

• United States
27 Mar 07
I read the other responses and I have to disagree. I would not like that at all. If it were a sister or a childhood friend that would be different, but you are talking about an ex. I think that would be quite odd. Then again, I guess it all depends on the situation, and since you said WORLD WAR III, I am inclined to think that your situation is much different than most peoples who don't want to see an ex's picture show up. Tell him you don't like it, and to get rid of it!

• Canada
27 Mar 07
Talk to him, tell him it makes you uncomfortable and that if things are truly over with her, that picture needs to come out.