Yikes we own a duck

United States
5 responses

• United States
27 Mar 07
Ducks are sociable animals so spend a lot of time with him so he will bond with you. Ducks also need a water bowl deep enough to dunk their heads into or they can get dry eyes and cataracts (that is if he is an indoor duck or doesn't have access to a pond). You can buy pelleted food for waterfowl that will meet their nutritional requirements at a local feed store or they can order it for you. You can also give him treats of greens, corn, or carrots but it should be only 5-10% of his diet. If he doesn't go out in the dirt then he will need grit--sprinkle a small amount over his food once a week. As for names, I'm sure your child will come up with something! Kids love sleeping with their pets, doesn't matter what kind it is!

• United States
28 Mar 07
Hmmm, didn't know about the grit. Thanks. We should be able to shake enough out of the kids shoes to handle the job. (Just kiddin)

• United States
28 Mar 07
If I can figure out how to contain the poop I'll consider letting the critter have run of the house. I'd hate for a hawk or coyote to nab him. When he gets bigger we have a friend with a pond that we can go visit.

• United States
27 Mar 07
haha! ducks are fun!! Name him quackers! Or daffy! hehe. I have no idea what ya feed him, sorry!

• United States
28 Mar 07
Kids already named him Duckey. Oh the originality.

• Netherlands
18 May 07
Don't let my 4 years old daughter know about this or else she'll beg to have one as well. When I was a kid my dad used to love to keep some ducks. The reason why my dad like to keep ducks is also he believe that they are good against unwanted guests at night as they can make really good noisy. Mostly we fed them with corn or steamed rice...they love it. And nah....I didn't sleep with them (better not) as they tend to poo on spot...

• United States
23 May 07
They are pretty cute and entertaining. They now live outside, although the dogs bug them a bit, they peck at 'em and they back off.

•
4 May 07
so cool that you have a duck for a pet. i would love to have a big enough property with enough land to have a duck pond one day (in my dreams probably). what colour is your duck. I would love white ducks. hope you are getting on well with yours. my husband says if i have a duck we will call it crispy aromatic! d'oh!!

• United States
8 May 07
Hi twinkle. We are getting along quite well with the ducks. We have dogs, so we had to wait until they got a bit bigger to do introductions, but so far so good. We have a white duck (Baby Duck) and a black duck (Blackie). The kids love it when they follow them around the yard.

• Philippines
27 Apr 07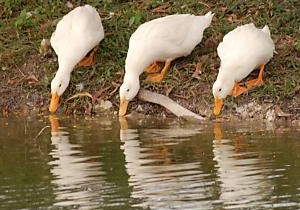 When the ducks are in the water, they look for shells as food and that's accordingly why the shell of their eggs are thicker than those of the chickens. Perhaps you can feed it with corn grits, etc. soaked in water or try to give it dry. There might be duck feeds in the poultry feeds supply in your area. Your child can choose a name for it. I don't think it's good for the child to sleep with the duck.

• United States
17 May 07
Yeah, I've done some research and found out that they need some grit in thier diet. But I do appreciate the tips. they are cute little guys.