Do you pay to get your eye brows done Or do you arch them at home?

United States
March 27, 2007 6:11pm CST
I just had my eye brows arch today. I paid $7.00. I normally pay $5.00. I assumed it was still $5.00. I hand the young lady $5.00, and she said no its now $7.00. Do you think $7.00 is too much to pay to have your eyebrows arch? Do you arch your eyebrows at home? I hated paying $5.00 now $7.00 I may have to start doing mines at home.
8 responses

• Philippines
28 Mar 07
It's that how expensive having your eyebrows being done? I dont pay for my eyebrows to be done, it's me who'se doing it nice..You can use it in your own without spending for it..I have a nice eyebrows, what i only did is just getting those not needed hairs..It's easy to pluck, and if you dont want to be hurt because plucking can make you hurt, you can use razor..

• Canada
27 Mar 07
I go to the great salon when you get your hair done its included in the price because they believe it finishes the final look and if you pop in for a touch up its 3 bucks i love it..7 sounds steep to me with a tip yikes Cheryl

• India
5 Apr 07
You are suppose to pluck the bottom part and not the top...but you are better off letting someone who knows how to do it correctly do it for you the first time so you'll know how it's done...if you screw up... don't worry...they grow back pretty fast...it takes a little practise and it hurts a bit the first few times you pluck them.it's better to have them waxed professionally,it is inexpensive,cuz eyebrows can grow out up to 2 months or more,so it's best,cuz i've been letting my eyebrows grow since i thought i could pluck them professionally,and now my eyes look small and it's a must to use white eyeshadow to give them an awaken look,but when i had twell groomed waxed eyebrows i didn't need make-up,cuz they opened up my eyes and made them bright.


• Philippines
3 Apr 07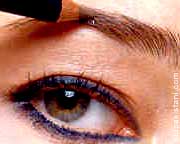 Huh? I have no idea about that! lol But for me, i like those girls who's actually letting their eye brows normal and not doing anything with it like "arch" thing? lol Have a nice day ahead.

• United States
2 Apr 07
Why pay for something when you can get it for free? I do mine at home. I'd rather not have to make an appointment and then have to wait to get it done and everything else. I like knowing I can get it done at home without having to wait OR pay.


• United States
27 Mar 07
Being one that doesn't believe in going out to have something done, if in fact a person can do it themselves, I would say that was a bit much to be spending just to have a few hairs plucked. I like looking nice like any other person does, but I am able to shape my own eyebrows fairly well without the pain.