Why Harbajan Sign Cannot Bowl round the wicket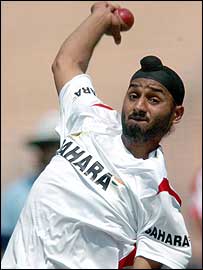 Sri Lanka
March 28, 2007 5:51am CST
Why Harbajan Sign Cannot Bowl round the wicket....In to my mind i think that is well possible. Classic example for this is Murali bowling around (right arm round the wicket) the wicket on the 23rd March, which Sri Lanka won comprehensively. Even though harbajan haven't got a stunning doosra as Murali, even though i think it will affect on some of the bastmen. Whats your thoughts about this?. Will he able to do this or will he struggle more and more
3 responses

• India
28 Mar 07
dude all the cricketers of our team r to be removed....there is no point in discussing nonsense about harbajan and others.....

• Sri Lanka
28 Mar 07
agreed....;can't imagin what will happen for the next cricket tournament. OOpps!

• India
28 Mar 07
I think Harbhajan is having some problem in his bowling. When he is not getting any wicket he should bowl round the wicket. This might could have made some difference. But he in not following in that manner. Instead he is giving more runs to other team.

• India
28 Mar 07
every baller has his own style of balling. now if harbhajan doesnt ball round the wicket it seems hes comfortable with the way he does and keeping his track record i dont think there would be much in gaining some wickets or affect a good batsman.