Talkative people, annoying or not?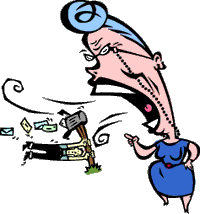 Philippines
March 28, 2007 11:15am CST
Well for me, it is really annoying. i dunno, i just find it very irritating when you're actually talking with those people who's very talkative and keep on telling lots of things that obviously not in your business. And i really hate those people who's very talkative in a sense that, they are talking about some other people's life, which i find very awful. But on the other hand, i like those talkative people who's just trying to get a good conversations, not to have a dull moment and very witty.
4 responses

• Philippines
29 Mar 07
i don't get easily annoyed with talkative people. i think that everyone has the right to say what's on their mind. i would just listen to what they have to say. i sometimes am very talkative as well. i can go on and on and i know how it feels like when i'm already bothering the person i'm talking to. i guess i don't get annoyed easily because i'm kinda guilty of it too. :)

• Philippines
28 Mar 07
I cant blame you if you feel that way... There really are people who are so inrritatingly noisy. But for me there are two types of 'talkativeness' and these can be categorized by its intention: One has an intention for noise/attention and the other has an intention for an intelligent expression of insight. The first one is what's annoying because the reason for being is not justifiable... These are the people who Filipinos call 'papansin' because they always want attention and they use their talking to achieve that. I know a lot of these kinds of people and they're not likeable. I like the 'smart-talkatives'. They are the people who talk a lot but make a lot of sense. I have been a member of our university's debate society and I must say many of debaters are like this: people who talk with sensible content - they dont irritate me..

•
28 Mar 07
some times they can be,my hubbie is talkative and im not so when he goes on and on and on.it does my head in

• Philippines
17 Nov 12
I feel annoyed if a person was so talkative, especially if the story comes out from his mouth doesn't have sense at all. It was like he wanted to be in the center. There are times, the insensitivity is ignored towards other people.