Who is going bald???

United States
7 responses

• United States
29 Mar 07
Hey, Riptide! I never knew you were a WWE fan! LOL My hubby is a huge fan, has been for years, and I pretend I don't care. LOL I do have favorite wrestlers, though, and my very favorites aren't on anymore, Rikishi and Funaki. I wish Big Show was around more, too! Anyway, my hubby and I have been discussing this, and we don't think there's any way that Donald Trump would EVER shave his head for anything! So, we're betting that Vince will lose his hair. It would almost be worth it to pay for the PPV just to see that! :-)

• United States
29 Mar 07
LOL. I love the WWE. I actually stopped watching a couple of years but now that DX is back I am all there again :). And now the Rock is back too!! So I am a happy camper lol. I'm going to my brother in laws to watch it sunday and I'll have to let you know how it goes. I definetely hope it's Vince. I can't stand that stinker lol.

• United States
29 Mar 07
Oh, my hubby just loved it when Triple H and HBK made fun of Shane and Vince McMahon! He still laughs about that!


• United States
30 Mar 07
I think that one of 2 things will happen. Since Austin is reffing, I can see him shaving both their heads. That would be awesome! They'd both look SO funny! But what I think will probably end up happening is that there will be some kind of dq and there will be some kind of loophole they'll find to where neither one will have their head shaved, or Vince will shave someone elses head.

• Canada
29 Mar 07
Donald Trump would probably look better bald! What is with that "do"? I know this has nothing to do with wrestlemania, but why would a guy with that much money wear the ultimate comb over?

• United States
29 Mar 07
I would love to see Vince bald headed, he likes to make fun of other bald people, so he needs to experience it. I also hope that UMAGA gets the crud beat out of himself. My only concern about Wrestlemania, is the match between Shawn and John, my daughter and I love the both of them. I do not want John to loose the title, but it would be great at the same time to see Shawn have it again also.

• United States
1 Apr 07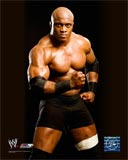 Me and my husband discussed this and he said he thinks the match will be disqualified because he thinks that maybe Cold Stone Steve Austin might do something to interfere since he does not have a liking for either man and that he might throw both out of the match so that neither one Vince McMahon or Donald Trump have to shave their heads..