What will you do if you have $1 Million?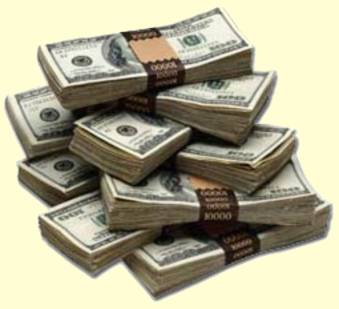 Philippines
March 29, 2007 3:10am CST
I don't know if this is already a big amount to you but this is already too much for me. I can pay my credit cards bills, pay my year long debts, buy a car, start a business. Whew! how I wish i could have one. How about you? What will you do if you have such amount?
9 responses


• Philippines
30 Mar 07
you still have a lot of spares... share some of it to me.

•
29 Mar 07
I would use half of that amount for investments.From $500,000 ,half would go into Real estate and the other half into mutual funds and stock market with professional advice. Out of the remaining $500,000 I would put half into a Fixed deposit account for a lock-in period of 3 to 5 years ,that will earn high interest.I will put another $100,000 into an SB account for my parents to use. Of the remaining $150,000 I would use $100,000 for my and my close friends needs as they show up and will use the other $50,000 to float a Non governmental Organization that I and a group of my friends will manage.

• Philippines
30 Mar 07
wow man, don't you have any debts to pay heheheh. but you have wise idea to spend that amount. thanks.

• India
29 Mar 07
money makes a man go mad! and i really do not intend to go mad! but yeah the idea of acquiring $1million is not bad atall...i feel i can do a lot many things in life and yeah i agree its a big amount of money! i could start my own firm,business,pay my educational fees and even help my frnds in need and more importantly i would also donate some of it...after i need to thank god for it!!!!

• Philippines
30 Mar 07
money doesnt actually make one mad at all. its the greed for money. but other than that, you have nice thoughts though. thanks.

• Singapore
29 Mar 07
i'll save most of it, u'll never know when u will need it badly. And i wouldn't spend too much of it because if you're too reliant on this $1 million , you'll probably start to be lazy to earn your own money. And one day sooner or later, you would have spent all of this $1 million dollar away :( And most probably, u couldn't keep up with your current standard of living. And then consequences..... :(

• Philippines
30 Mar 07
setting aside some amount for rainy days. why not. thats a nice one too. thanks.

•
29 Mar 07
I would pay off all our debts, especially the house. I would send for the rest of my things from back home. Buy that new house that we plan to retire in. Send some money to my brother, sister-in-law to pay off her house, give some money to my hubby's parents. But a new computer and a hdtv. If anything is left, it would go into the bank.

• Philippines
30 Mar 07
pay my debt is also my first priority. i admire your being thoughtful to your inlaws. thanks.

• United States
29 Mar 07
With that kind of money we could rebuild out house and give to those charities that have helped us and put some money in accounts for college for the kids. Then hopefully enough to retire on left for a Roth IRA. That would get us back to square one and then we could earn the rest of our lives. Kind of the way it should be I think.



• Janesville, Wisconsin
2 May 07
I would buy my Grandpas old house. Buy up as much land as I could in the area... Then set asided enough to live on for the rest of my life.. then I would pay my parents bills, My sisters bills, My friends and relatives bills, and I would found my own community, and my own small tribal nation, and create new jobs and our own little new society..... Maybe even form a foundation.. out of it.. I could do so many wonderful things with that money to make the world a better place, that would be my ultimate goal to do with it. - DNatureofDTrain