Were you ever on a TV show or the news?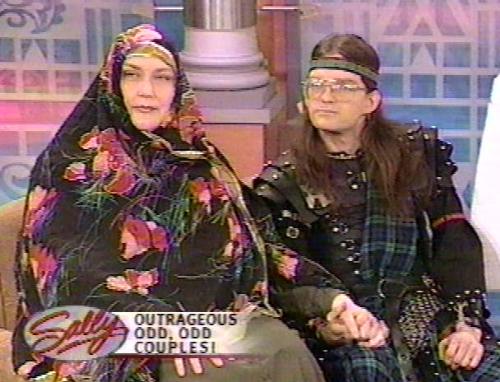 United States
March 29, 2007 4:16am CST
My husband and I were at a flea market (boot sale) this past weekend and this lady walked up to us and said: "I know you - you're somebody I saw on TV!". My husband and I were pleased she remembered, but that was back in the year 2001 and she did have a good memory. Back then a few "friends" had decided to try a joke on us. We had just started being a couple and they thought it outrageous that he, at 5'7" tall and a pagan, was enamored to a 6'2" tall Muslimah. They called a national reality TV show based in New York City, hosted by Sally Jessie Rapheal (The Sally Show) and told one of the producers about us. It was January and for Valentine's Day they were planning a show about "opposites attracting". WE get a phonecall from their New York office in mid-January and they literally beg us to fly up there at their expense, and come on the air. We liked the Sally Show, she did things with style and tact, unlike Jerry Springer's show. However, I warned the producer that if anyone associated with the show planned to make fun of us in any way on the air, we'd walk off and contact the news media. They assured us it would be tasteful. It was a nice experience, they paid for everything and we had a great time. The other guests were amiable and we still write to 2 sets of them today. Every pair of guests on the show had a different situation on why they were 'different' - which made the show more interesting. All us ladies got roses for Valentines Day (but due to a mix-up in scheduling, it wasnt shown until March 10) and Sally herself was surprized by her husband with a dozen presented by himself (he worked in California). As for the so-called "friends"? After sending messages to all our group about the joke after they called the show, then found out we were going - they made bets we'd make fools of ourselves. We had our airfare, room services, limo transportation plus free tickets to a broadway theatre (we saw CATS) the night before the show. After the show aired, our circle of nice friends made sure they are still being laughed at until this day. What experience/s did you or you know of a relative or friend who's been on television?
1 response

• India
29 Mar 07
Yes, dat's a local tv channel following our delhi ncr region only. I was a part of d programme & won a hang clock as an award wid d answer dat i gave as an audience supporter. Dat's onlt time. Also, as far as I remember, I was shot wid Mrs. Shiela Dikshit, d Delhi's CM & saw a glimpse of my face later dat night though i was quite young at dat time around 9-10 yrs old.