Do you blame your child's bad behavior on someone/something else?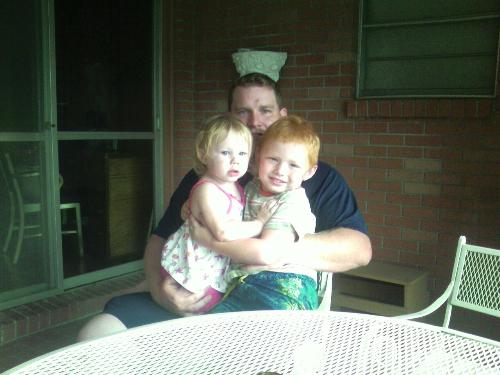 United States
March 29, 2007 6:54am CST
I just recently got back with my husband...We have several children, but he had kept our 5 year old by himself. And now that we have gotten back together he blames my other kids for the way that our 5 year old acts. Now, mind you, when he had Levi (the 5 year old) he had gotten KICKED out of PRE-SCHOOL for his bad behavior (and blamed that on ME for not being here)....Then we moved here and Levi continues to be very disrespectful and mean. He won't do anything you ask him to, he throws temper tantrums worse than our 2 year old. He just don't behave. And you can't leave him with a sitter because they never come back after watching him just once. (see my other discussion) (Levi was 90% of the problem) Now, my husband is blaming my older boys for his bad behavior. I don't think this is right. He was bad before. Not to mention he is FIVE years old, not TWO. He's old enough to know what he's supposed to do and what he's not supposed to do. I'm at my wits end with Levi and his father. Something has to change or I'm going to lose my mind. I have too many children to be having them behave this way. I don't blame my older childrens bad behavior on Levi or anyone else. I think that even at age 5, they need to be "responsible" for their actions. Do you think that is unreasonable? Or wrong? Please help me understand what the heck is going on in my husband's head, because I just don't get it. And I don't know what to do about this. Any suggestions??? Thanks in advance!
5 responses

• United Kingdom
29 Mar 07
Steph I totally agree with you there so tell that nice Husband of yours to just shut his mouth Why was the Child misbehaving cause you weren't there? Where has that come from, does that mean your Husband was not able to control him?? So is admitting then that he can't controll a Child. No one can be blamed for a childs Behaviour. Yes he might copy what the others do but they get punished and so does he, so why does he carry on? Tell your Husband to stop the Favourtism as that is one of the reasons the little Fellow is mibehaving, Daddy sees no wrong in him so lets carry on and Daddy can keep blaming my Big Brothers and that is what the little Fellow is thinking. I had it with my Brother, I always got the Blame so he carried on and I got the Blame.

• United States
29 Mar 07
Levi just throws fits when he don't get his way. And I mean THROWS A FIT! He will NOT do anything you ask, he won't calm down...he's a spoiled brat!! I agree with you, it is favourtism and it's bull! I keep trying to explain to my husband that he needs to make Levi be responsible for the things that he does...instead of blaming it on the older kids...but he won't/don't. I'm about ready to lock myself in the bathroom and NEVER come out again! Hopefully today is a better day....

•
29 Mar 07
I think you are right that at 5 years old your son is certainly old enough to be responsible for his own behaviour. Have you considered giving him less attention when he misbehaves and more attention when he is good. Thsi works for my children. If I am praising one of the girls for tidying up, eating their dinner or something like that then the other one soon starts doing the same thing because she wants the praise as well. It could well be that your relationship problems are a contributing factor to his behaviour, but that isn't your fault it is a problem with both of you and you need to talk about how best to resolve this.

• United States
29 Mar 07
You are definitely right! And I try to talk to my husband but it's like talking to a brick wall. I'm about to bang his head against it! lol...I don't know what to do....

• India
29 Mar 07
not dont blame them actually they are child so explain them and give then good treatment so they will be happy

• United States
18 Apr 07
Sounds like everyone needs to sit down with a councler and go through things. It is amazing what they can do for a family, even if there is no problem. It could be something very simple, but something that is off and driving everyone crazy, and haveing a outsider could see this and be able to help.

• Etowah, Tennessee
29 Mar 07
A childs behavior can not be blamed on others at such a young age. Now some times they can get in with the wrong crowd and make wrong choices, but not when they are home and not out with friends. I would take the boy to the DR. Tell him about the fits and total disregard for any authority. It sounds to me that it may be a physical or mental problem. It may be due to the separation, or it may be from something else. a friend of mine had a girl that was wild as a snake. The last straw was at age 5 when she stabbed a boy at school with a pencil. The Doctor put her on Ritlin. There was such a difference, that the teacher wrote home thanking the mother for getting help. Her father did not want his daughter to be on Ritlin and took the mother to cpurt. The judge told Dad to just don't give it to her when she is at his house. My friend took in the letter from the teacher as well as one from her Doctor and Sunday school teacher. They all were amazed that the crazy fully loaded girl of the past was the same, sweet, gentle child that the meds had her acting like. she did not take it forever and is a well rounded, KIND person now. With out my friend taking her to the Dr. she would probably be in jail! Even if it is not something like ADHD, it might help him to talk to a counsler or see that you do not accept that he is acting this way. I have heard of people that ignore bad behavior and praise good behavior. I guess it works well. I though can not just ignore random terror. I would have to put him in the corner.LOL but for the most part, I think that is a good start.