Finding a faithful partner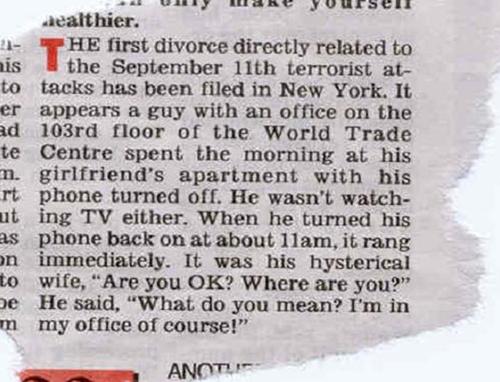 Philippines
March 29, 2007 12:05pm CST
What would you do if you found out that the person who has constantly professed his love for you is actually cheating on you? Isn't it so unfair for the woman when the man she has fallen deeply in love with is just taking her feelings for granted? I mean, it usually takes so much time and emotion before a woman actually convinces herself that she is in love with a man, and then it just turns out that the man she fell in love with is cheating on her! I don't say that this happens only to women. Men, of course do experience this. The point is, why do people cheat? I think it would be a lot easier if a man or woman who fell out of love just tell his or her partner, "hey it's over, i don't love you anymore and i found someone new." easy to say, huh, but hard to do. yes it is difficult, and it hurts, it has to hurt. but how much more pain could one give by cheating, and lying at the same time? the truth may hurt, but i believe that time heals all wounds... and by telling the truth the partner is given the chance to look and find someone who won't fall out of love with him or her.
3 responses

• United States
30 Mar 07
It takes courage to tell the truth and many people that cheat don't have the courage to tell the other person because confrontation is hard. Many people that are the victims of cheaters are lacking self esteem and the courage to the see the truth. I have a friend that has been cheating on his wife for years. He has never had any intention of leaving her. He just chooses not to be faithful. I don't understand why he does it. If he feels more like a man, if he's unhappy with her, I'm just not sure. But she has caught him several times and she never leaves him. I think that if she really walked away and took the kids, that he would stop. Right now he knows he can do anything and she will never leave. She enables the behavior. I'm not trying to say it's her fault. I'm just saying she lets him do it to her.

• Philippines
30 Mar 07
You're right. It always starts with self respect...

• Sweden
29 Mar 07
in my past relationships, most men cheated on me. maybe because they want to prove that they are men and that they can handle women any way they want to. it's just not right. and yep. you are right. not only men are capable of doing so. i know people and friends who do this as well. i just got hurt a lot that even got me to a point when i thought i'll never love again. but we learn from our past and we stayed stronger everytime we get hurt. and now, i finally found someone who loves me a lot more than i even love myself. gives me the true meaning of love beyond my imagination. i just hope that more people out there will value the meaning of sincerity, loyalty and honesty. lying and cheating will never get us too far but down.

• Philippines
29 Mar 07
yes, you are right. right now, we are grateful for having someone who loves us very much. let's hope and wish the others who have been hurt would find love again too, like we did. hope too that this lasts forever! good luck to you!

• United States
29 Mar 07
I do not know what to do because this is happening to me. I suspected that my boyfriend is cheating on me. Lately I am catching him in too many things that prove my point. So I really do not know what to do about it. I talk to him and ask him about it but he lies to me. The bad thing is that I catch things that really prove he is cheating.

• Philippines
29 Mar 07
I know perfectly what you're going through. Make up your mind and your heart while you can, girl. I wasted 12 years of my life talking and asking and believing in lies. Love yourself more than you love anyone else... because no one else can do that better than you can. If you let go, it will be tough in the beginning, no doubt about that. But believe me, when the wound has healed, you would even find yourself asking why you ever let it happen in the first place.