Artificial Flowers

Philippines
March 29, 2007 11:25pm CST
Who among us here have some kind of love for artificial flowers? I can still remember that until the 1980's people were never keen about having artificial flowers in their rooms and tables. My mother would frown at it, my father will throw away such 'senseless things' he'd say. But now, they are widely accepted. The 'paper roses' song is still heard until these days playing over the radios and in residential houses, most probably because, of the beauty of its music rather than the lyrics.
9 responses


• Philippines
1 Apr 07
It is true that almost everyone has found the idea of having artificial flowers in their homes, acceptable. Artificial flowers are easy to maintain and provides accent in the house.

• Sweden
1 Apr 07
yep. it's not temporary. you can have it there for life if you want to. less expensive also when compared to real flowers.

• United States
3 Apr 07
I have several artifical flowers. Ever notice how expensive they are? I have also noticed that beaded flowers are becoming popular again. I actually made some about 30 years ago. Now they have classes in beading and you can buy patterns, make them and some even sell them.

• Philippines
5 Apr 07
It is true that artificial flowers can be very expensive. The last one I bought did cost me too much. I still went for it because, I know that it will serve its purpose for sometime, anyway.

• United States
2 Apr 07
i love real flowers ..iam not that big fan of artifical one ..however i do admire artifical flowers too ..as these days they look real

• Philippines
3 Apr 07
I have noticed that, too. There were some artificial flowers I have come across with, which I thought were real ones. I went to smell and touch them only to find that they were artificial ones. It is surprising how people can imitate nature.

• Sweden
1 Apr 07
it's okey to have artificial flowers at home. it's forever yours and forever there to display it's beauty. but it's still better to have the fresh flowers and plants. they still look nicer and prettier than plastics or paper flowers.

• Philippines
3 Apr 07
It is true that fresh flowers and plants give a room life. The room where there are fresh flowers and plants feels much better with them around. Vibrance is what these live ones lend to a room where they can be found.

• Philippines
30 Mar 07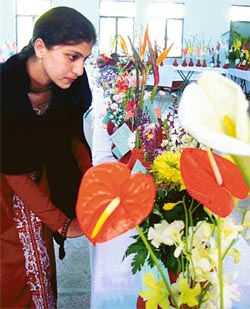 Though I would surely go for the fresh flowers because of the fresh scent they have and the beauty they add to my desk or to our dining table, or to anywhere I place them at, there are still times that I'd rather have the artificial ones, especially if I need to have them for long-term use. Well, fresh flowers would only stay beautiful up to a a couple of days or a week, and then there they go, weather and eventually thrown out. artificial flowers for me is indeed a great substitute for the real ones especially when I would put them to give accent on my room. And besides I don't have the luxury of money to buy those expensive flowers every week. :P

• Philippines
2 Apr 07
We share the same thought on this matter. I prefer the real ones but, I have to have some of the artificial flowers because they can give beautiful accents to the house and I don't have to change them every 3 days or so. They kind of last for years and still look beautiful.

• Philippines
30 Mar 07
Artificial flowers are pleasing to the eyes. But I still love the real one. Considering that we have lots of flowering plants in our home like orchids and daisies, thus, we don't need the artifical ones.

• Philippines
2 Apr 07
It is excellent for us to be able to grow our own flowers. I used to have a lot before. Now, I am trying to grow them again. However, it appears that flowering plants are no longer good to have in my lot because, the trees have grown very big already. The sunshine can hardly filter through. What I do then is grow the underplants which do not produce decorative flowers but will give good foliage.

• Philippines
30 Mar 07
On my part I accept to have an artificial flowers put in the vases at home.They are beautiful just like the fresh flowers and most of it will never withered.And most of them are not expensive compare to fresh flowers that we need to buy often in order to replaced the withered one.

• Philippines
1 Apr 07
I agree with yo on this regard. I have learned to use artificial flowers lately because the fresh ones have become very expensive and I will have to travel some distance just so as to have some. The artificial ones stay for some months, or even years, and it will take only some dusting or washing to keep them in their shapes. I use potted plants to bring in the freshness of real plants.


• Philippines
30 Mar 07
I like your views although I have adjusted to the idea of having artificial ones at home. I always prefer the real ones. They are so nice to the touch, kind of velvety. And there is always something about them, it must be life itself. For real ones are living ones.

• United States
30 Mar 07
I love real flowers and try to have them around the house as much as possible but I do have artificial flowers around the house. I like some the arrangements and I have them in places that I wouldn't ever be able to water them, they add color to the house and I like them. My grandmother always had artifical flowers in her house I learned how beautiful they can be and I love using them where I can.

• Philippines
30 Mar 07
I can see that you are a flower lover. Yes, it is practical to place artificial flowers in areas where watering them will be undesirable. The real ones though, will always be good ones to have, their smell and beauty will always be different from the artificial ones.