Would you mind if your friend is dating your ex?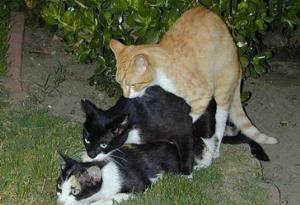 Philippines
March 30, 2007 12:54am CST
Would you have a problem with a friend dating your ex? Actually, I dont see anything wrong with that at all.. I've always wondered why it's such a big deal with most people.. I mean, you and your ex are no longer in a relationship.. You are free to go on with your life and date another.. And it's the same with him/her.. So why would it matter if he/she dates a friend of yours.. I think it's no longer your business, not unless you know that you're friend will be in danger, or is on for a future heartbreak with your ex.. But I think that will be their decision.. You can just give some advice regarding problems he/she might encounter with your ex, based on your experience.. But still, it's up to them to decide on that..
10 responses

• Philippines
31 Mar 07
Personally, having a friend dating my ex can be a bit troubling, especially if we talk about a real close friend of mine. Although it is true that he's already an ex, and you already severed romantic ties with him and he's calling his own shots now, I tend to place more value on RESPECT (delicadeza as what we call it here).

• Australia
31 Mar 07
ahh well actually i have been in this situation that my friend has dated my ex boyfriend, and i dont care less, its over between me and him so nothing to do with me what he does or what i do etc etc.

• Australia
31 Mar 07
i feel that it is unspoken rule to dating, that you never date your friends ex's. becuase if you are a true friend you would think of them and their feelings. if you must do it first ask for your friend's approval.

• Philippines
31 Mar 07
That is something that's beyond my control. How am I suppose to know they are dating unless I find out or another friend would tell me. But with all honesty I really don't care. It's my other friend's disgretion to decide to go on or not if she's concern about my feeling. I know a good and honest friend would be a girl enough to confront me. At least I could give her some advices.

• Philippines
30 Mar 07
No, I wouldn't mind as long as I have no feelings for such person anymore but I would try to advice my friend on my situation before that I hope I could help her avoid.. People might get jealous because I think they still have the feelings even if it's that little, because there won't be any other reason for them to react that much.. If we could take it that it's over then let them be free on who they wanted to go on a date with.. Yup, we don't have the right o get into other people's business especially when it comes to their relationship, we're just there to advice them..

• India
30 Mar 07
I would have a BIG problem if my friend dated my ef-bf. Heck I have a problem if my other friends want to be in touch with him. Thing is it hurts. If i see my friend dating a guy who broke my heart (for whatever reason) then I feel as if my friend is not being loyal to me. After all he/she is my friend and not my ex's. So i would expect some support by having my friends not associating with this guy again.


• Philippines
30 Mar 07
I'm not really sure but I don't really want to date a friend's ex. It's okay for me if a friend date my ex but I'm not really comfortable in dating a friend's ex. It just feels awkward because I think there's something wrong even if there's none. Weird huh?

• Philippines
30 Mar 07
Before, i have that feeling but now, its over. Its different from my story..Before we begun dating with my bf today, he has a gf but her gf cant show him off. And then we begun dating until the time he choosed me over her. Then my cousin, (well that was few months after she and my bf really broke up) begun courting her and ended up in marriage. We became friends eventually with the girl and we sometimes drop at their house for a little chat. Just try to move on and the past will be the past.