For Cricket fan.....see the picture!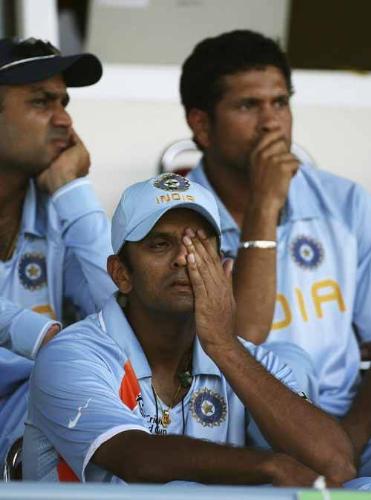 United States
March 30, 2007 11:01am CST
We know about Gandhiji's three maonkeys, which say don't see bad, don't listen bad and don't say bad. In the picture Cricketers are doing something like that. But ofcourse that have different meaning. Is this picture saying...... Can not see their team losing. Can not hear the audience outburst against the team Can not speak in front of media about the causes of defeat. What do you think about this picture? I would like to hear your comment.
8 responses

• United States
30 Mar 07
LOL I got this one in my mail yesterday...God the Indian team, they need tons of reasons to justify why they lost...pathetic! Did you see the mail where Indira Gandhi and Hanumanji are blamed? ;o) It was so funny! Hey did you get my PM? Sent you my mail id..send me yours

• United States
30 Mar 07
I got this in mail as well. I did not see the mail about Hanumanji. If you still have that mail you can send me that one. I have got your PM and have sent the mail id already.

• India
30 Mar 07
I got all those mails and they were really funny. After all indian cricket fans were totally involved in the world cup and every one were shattered. Not the indian team being the best batting line up on paper they could even build a better partnersip. Shame on the seniors in the team.


• United States
10 Apr 07
it is a very nice picture, but i think it is goes the following, see no evil, hear no evil and speak no evil and now i think there is another one call do no evil how bout that?

•
7 Apr 07
I received this in an email too and it made me roar with laughter as above the picture was one of the 3 monkeys doing the same thing. I don't know if this was a real picture or someone made them pose like that but it really is a good one. I'm not a cricket fan sweet one but the picture does speak a 1000 words! Just not sure what those words are. x

• Philippines
3 Apr 07
I think the picture suggests that Gandhiji can't see their team is losing.I'm not really a fan of cricket but this what I can picture out the situation here.

• India
30 Mar 07
One of the most worst moment for Indian Cicket.. Nothing Else..

• India
30 Mar 07
hey i got this in a mail and its really funny and pityful expression given by those people i wish all indian team members resign soon...