Have you seen the tic tacs for Breast Cancer?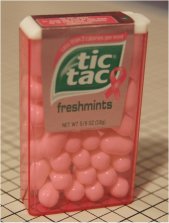 United States
March 30, 2007 12:40pm CST
I found a pack of Tic Tacs at the store the other day and they are pink with a pink ribbon imprinted on them for Breast Cancer! Not only are they really pretty to look at and a great idea for perhaps a baby shower that you know you are having a girl but they help to fund breast cancer research! I've posted a picture below. Have you seen these in your area yet?
8 responses

• United States
30 Mar 07
Oh wow, this is a great idea! I haven't seen them in my area but I would definitely buy them if I saw them. You are right, it is a cute idea for a baby shower. You could even use them in gift bags for guests! Great cause!

• United States
5 Apr 07
Whenever I buy Tic Tacs they are the only ones I buy. As a survivor I would like to say thanks to everyone who buys them and encouage everyone to buy just one pack.

• United States
31 Mar 07
No i have not seen them in my atrea as of yet ...i will definetly look for them ...i don't use tictacs but I would buy some just for the cause ... I am sure my daughter would love them ...at eighteen that would be a great little gift for her ...I think that when companies do things like that then I am much more apt to buy and use their products for that simple reason ..its a great way to give back to the community and help other s...and then when I buy those products i feel a seense of being able to help to so its great for both the company and the consumers too ...great little topuis here ...I like to see companies doing this type of thing and its nice to see who else cares enough to help out too ... :D

•
31 Mar 07
i hope they sell well,it a good idea,ive never seen them before will be looking for them

• China
31 Mar 07
Great!A good news. But I haven't ever seen it here.

• United States
30 Mar 07
I buy these whenever I see them. Anything I can do to help the cause. Every penny they send to fund research is great. I also have seen the bottled water with the ribbon on it too. They now have kitchen utensils that are pink. Great for bridal shower gifts.

• United States
30 Mar 07
No I haven't but what a good idea and I hope they are donating a percentage of sales for research.