Why does Stewie hate Lois so much?

United States
6 responses

• United States
31 Mar 07
I think that stewie hates Louis because he was intrapped in her womb for so long, and got used to it and then was ripped right from it. I think also that naturally stewie is just an evil child, he has to hate somebody so why not louis?

• United States
31 Mar 07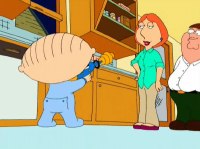 That's basically it! He says in multiple episodes that she's a vile woman because she (and the man in white) ripped him out of his peaceful home! It's silly, I know, but it's what makes the show so great :) There's even an episode where he plans a scheme to get back into her womb!


• United States
1 Apr 07
Stewie hates Lois because he thinks the "white man" i.e. the doctor will put Stewie back in Lois' womb on his first birthday. That of course is not true and he continues to hate Lois no matter what. That's one of the first few episodes in season one or two..But there is one episode where Stewie becomes very attached to Lois because she stitches Rupert--Stewie's teddy bear--together after a dog rips it apart. But in the end of that episode its back to good ol' Stewie who is always plotting to kill Lois..lol

• Belgium
31 Mar 07
maybe he hates her so much because he is his mom and makes him feel somewhat weak,he needs her to survive, foodwise and such. Stewie sees himself as a strong individual and dominant and that's why he, in my opinion dispises the fact that he's so dependent of another person.


• Brazil
7 Apr 07
I have seen the complete first season of Family Guy, but I never saw a clear explanation of why does Stewie hate his mother. But I have a guess: Stewie hates everyone, including Lois.