~~ I saved a life~~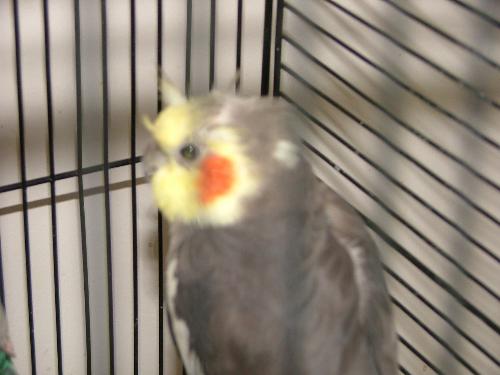 Australia
March 30, 2007 10:18pm CST
I am so proud of myself. I saved a life...... My birds life, a cockateil. It was 3 weeks ago, I had him in the cage on the verandah and a massive eagle came and tried to pull him through the cage. There was blood everywhere. I thought for sure that he would die within the hour from shock. I dont live near town, but I rang the vet and described what had happened and they basically said that they cant really do anything and the long car trip would certainly finish him off. Well..... I didnt want to lose this bird that I have had for 15 years, he's a mate and we have good old conversations. I bathed the wound twice daily (half his head was torn open) and fed him by syringe, I persisted with him and started to feed him seeds (one by one - mind you, the things you do...lol), a chunk of his beak was missing. He just sat on the bottom of the cage up until about 4 days ago, now he is up on the perch. One eye is open and bright now but unfortuntely he lost the other one. And now just this morning he looks like he is back to his old self, sitting on the perch and talking....... I just feel so proud, to think that I done this all by myself.
5 responses

• Australia
31 Mar 07
How wonderful. And how horrible. I think if it had been a younger bird you may not have won. I reckon it's the friendship and trust between you that saved your lil pal. I'm truly amazed that he survived such horrific injuries. You shpuld be very proud of yourself and your lovely bird. Well done.


• Philippines
31 Mar 07
I am also proud of you for giving importance for the poor bird's life! your such a hero!

• Canada
31 Mar 07
Well done!!I also have a cockatiel and know how much they can mean.I put her outside on warm sunny days(few and far between lately) and keep the door open to watch/listen to her and her budgie friend.I do not know if I would have handled the situation like you did.That was awesome!

• Canada
31 Mar 07
You must be so happy that you were able to save the life of your friend as after having him for 15 years he must be a big part of your family :) I would be terrified to ever let him out of my site again after knowing that an Eagle was going to run off with him and how you almost lost him . I am happy to hear that you were able to save his life as this must have been a tiring time for you wondering if you were doing the right thing or not for your pet . Hope you have many years left with him :)