Do it now!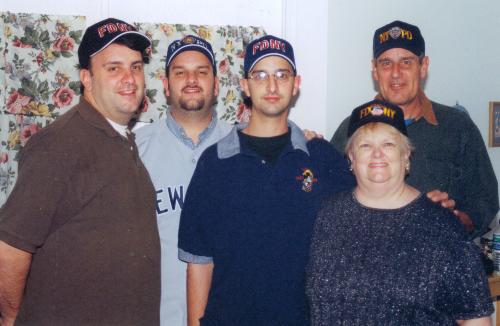 United States
March 30, 2007 10:47pm CST
This last couple of days have had me crying at the drop of a hat. It started with a simple question, "let's have an update on your life?" I answered "Everything is OK!" Well, it was. Until ..... I heard about the death of a young women that was my oldest son's first love. She was only 28 years old and was the mother of 2 small children. She had a troublesome life, and was finally happy and she just up and died. I asked him how he was feeling and he said he was numb. I guess I can understand that. They were together for a few years and went through so pretty important things. The prom, the death of a beloved grandmother and the hospitalization for the young girls mental health. My son stood by her and brought her to a place where she got some self respect, something that was badly missing in her life. As young love happens, it fades away. They moved on and found others and married. Life goes on. Life is so unpredictable. One day you are getting ready for your days events and then next minute, all things have changed. This past year I have seen a lot of lifes changes in my life. Most of them wonderfully great. Then a bump in the road, brings us back to our own mortality. So here is my advice. Use the good china for your family, don't save it for company. Get out old family photos and remember that time of your life. Go to the ocean and look at the horizon and see what a small speck we are and the greatness of God. Have a drink before dinner and enjoy the quiet. Take out your wedding dress and try it on and remember the joy you felt the day you wore it. Play an oldies radio station and listen to the words of songs from your teen years. Die you hair blonde and see if they really have more fun. Take a day off work and do absolutely nothing, no running to stores or school meetings, just take a breather and read a book. Find an old friend and relive what made you friends in the first place. Treat your mother to lunch and a movie. Bring your spouse a gift, something unexpected, to thank them for loving you. Take a walk around your neighborhood and meet new people. Don't watch the evening news for a week, or read the newspaper. Do something for yourself, get your nails done or your hair cut. Take a romantic horse and buggy ride with your love. Create a memory. One that will live on in your heart and mind. New cars, furniture and appliances break and get old. Clothes wear thin and jewelry lose their luster. But memories never ever go away. They actually get better as time goes on. When I was in the travel business that is what I did. I helped people create memories. I have had people come back and tell me they were so glad they took that trip because soon after the trip their companion died and all they would always have the memory of the trip and the joy they shared on it. Do something now, that your have been thinking about. Don't wait one more minute. "may be reprinted with proper credit" by Carolee Kaufold My Thoughts....by Carolee ©
10 responses

• United States
31 Mar 07
Ya know, I have been thinking about dying my hair blonde. I die it to match it's natural color, auburn, but whenever I go to the store I look at the different shades of blonde. Just bought Mom lunch on Thursday. She always argues, but I stand firm and give her my best "mommy look". My partner and I have reserved a nice cabin in Galena, Illinois, trip coming up in a few weeks. Nature walks, fishing, boating, horse and carriage ride, hot tub, and lots of peacefulness and quiet. We cannot wait. Bringing the camera so I will share the experience with pics when we get back. Thanks for this nice post. God Bless

• United States
31 Mar 07
Have a great time in your cabin. I heard about Galena, take a lot of pictures I am waiting to see them

• United States
31 Mar 07
Thanks for the thought provoking post. I have also learned that life can be too short, we do need to cherish our time with our loved ones. Someday our memories will be all we have left of them, wouldn't it be much nicer for us, if the memories are all good ones.

• United States
31 Mar 07
WOW! It's so nice to hear this post. I think a lot of us forget about the important thigs in life and take things for granted. I'm sorry to hear about the young lady. I will say a prayer for you all. And I will defiantely take what was brought to me and create more memories then I already have. Have a blessed day!

• United States
31 Mar 07
so very true. use to my husband and i both worked about 50-60 hours a week each. we had no family time hardly and the kids were passed off between us. we worried about bills all the time. we didnt spend money scared something would happen and we would need it. about 4 years ago we lost out jobs and we lived in dallas. he was working on the property that we lived at and when he was fired we had 72 hours to move. he was fired for not opening the swimming pool due to the filter was messed up and he didnt want anyone to get sick. the office wanted it opened and he refused till they bought the part to fix it. it was his linsce on the line and his beliefs not to danger people. anyways. we dint know what to do. we were both sick of working never having enough money, time, etc so we moved to a small town in arkansas. life is cheap here. all out bills are 550 a month compared to dallas at 2200 a month. jobs pay the same too. we decided that we would rather have a small place and only one person work 40 hours only a week and spend more time with each other. to stop worring so much and just make the best of it for us and the kids. we started home schooling and doing camping trips, fishing, etc. everything is now family not work. 2 months ago the man that was like a dad to us both past away and it was a shock he wasnt sick. then again it hit home. money doesnt make the world go around it helps but other things are more important then a new car, new clothes etc. i can live with wearing a pair of shoes that are dirty and ripped in spots i cant live without my kids and my husband.

• United States
1 Apr 07
Wonderful post Yesterday for all we know was a dream that we have awakened from Tomorrow is a dream we've yet to have This is the dream we're in, so what do we choose it to be?


•
1 Apr 07
Thank you for your lovely post. Really made the hairs on the back of my neck stand on end. Makes you realise how most of us live each day complaining about the last but never really do anything about the things that bother us. Tomorrow is a new day, and I'm hoping to make it through the whole day being as positive as possible and living life to the full from now on. At the end of the day, I'd rather regret what I have done than what I haven't done. Thank you again.

• United States
31 Mar 07
How often do you hear that people work like dogs so they can have a decent retirement. Well I know of one couple that did just that and planned to retire together and they did that too. Then the next day husband was stricken by a heart attack and hospitalized....and you know it just happened that one thing led to another and he spent three months in the hospital while different parts of his system "broke" and never came home again. His wife was left with nothing because of the medical bills and all, so what did they gain with their hard work ethic?...Live today because there may be no tomorrow, take a chance when you can cause you may never get it again. Make your memories today so that tomorrow you won't have to say what if? Good thoughts, have a great day.

• United States
1 Apr 07
yup I didn't even expect to be alive at this point. You are wise to know that and to share it.

• Australia
1 Apr 07
it is a very beautiful post you put here... and it is so true... yes, our lives in this world is only temporary and it is so unpredictable... we don't even know what will happen to us in an hour time... so, yes... we have to make good use of every single second that we have and try to live to the fullest... thanks for reminding me again about this... it is great... and i am sorry to hear about the loss of your son's girlfriend... have a good day...