Golden Gate Bridge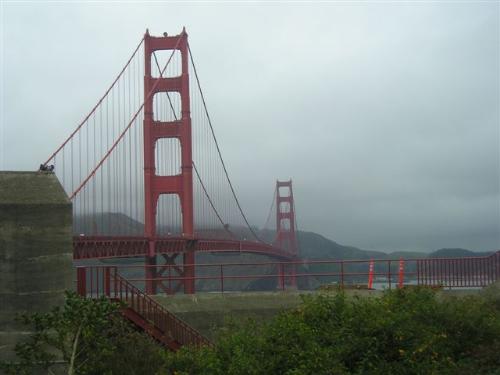 United States
March 31, 2007 12:17am CST
When Kris, Travis, & I went down to California to see my brother Randy, we were lucky enough to be able to go to the Golden Gate Bridge before we left. It was a pretty amazing site and am happy to say now that I have actually been there. Here is one of my favorite pictures of it and hope you enjoy it too!! :)
4 responses

• United States
1 Apr 07
Great picture. I love taking pictures of places we have seen. I often post them to share with my friends. Thank you for sharing with us! Do you have any more? How is your brother doing?

• United States
1 Apr 07
He's doing good. Very good. He went back to work a couple Mondays ago already. He is sore from his lungs healing back together, but otherwise is doing great. Thanks for asking!! I have that other one I shared in the comments and then one of Alcatraz

• United States
14 Apr 07
That must have been really fun to see that, and share the experience with others. I am not sure if I have ever been across the Golden Gate Bridge, because I have lived in California when I was little. Maybe I would have remembered if I had? :) That is a very nice picture, and I am glad that you were happy to see it! :D

• United States
31 Mar 07
Next time you visit your brother try to take the time to walk across the Golden Gate Bridge. Amazing!!! That is a nice picture you added. It is such a beautiful sight.

• United States
10 Apr 07
What a wonderful experience! It's great to be able to see things that are well known attractions and make a locale "famous" for. I've always wanted to see the Golden Gate myself but have only been to the west coast 2 times, never even close to the Golden Gate either! Great pic too!