New US Triangle Stamp to be Issued May 11th.....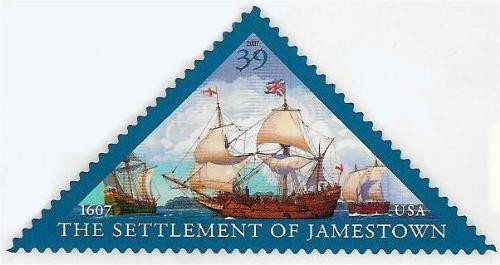 United States
March 31, 2007 12:46pm CST
The image shows the new US triangle stamp commemorating the founding of Jamestown in 1607. I like it.....What's your opinion?Tom
5 responses


• United States
5 Sep 07
Hello ssh123.... There are 2 others....issued in 1997.....both single colors, a blue one showing a ship, and a red showing a western style stagecoach. Tom


• United States
8 Apr 07
Hello stvasile..... I hope the finale product is at least as good as the pre-release image. Most of what has been issued in the past few years is, to me, quite poorly produced. I really miss the old engravings. The details achieved were much more impressive than most items issued in recent years. Reducing costs should not also mean the reduction of quality. Tom

• United States
31 Mar 07
Very cool! I wonder if this is going to have a masthead on the sheet? If not I can settle for the plate block. I like these kinds of stamps. I will probably get the entire sheet but use most of it on mail. I'll have to check and find out when it is going to be released.

• United States
31 Mar 07
Hello Realioi....... First day for this triangle is May 11th......you can place an order two weeks ahead of time. I'm planning on ordering several sheetlets. The release stated that there will be 20 to a sheetlet. Tom