Cancer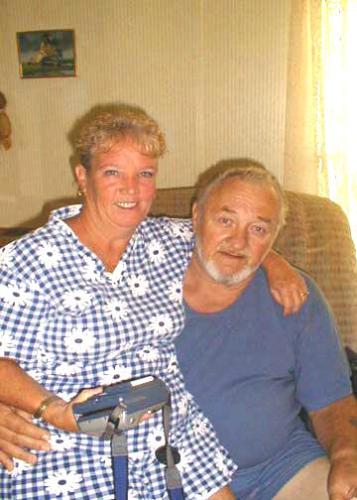 United States
March 31, 2007 7:22pm CST
My husband got prostrate cancer 2 years ago. It was a scary time for both of us.. The treatments were grooling and for the last 2 months he was to weak to drive himself to the doctors 200 miles away.. I was with him every step of the way.. We would leave at 4:30 am to be there at 8 am for the radiation treatments and then we'd make our way home again by about 10:30 and arrive home around 1 or so.. For 5 months this was our routine.. And I gotta tell you the last month or so really started taking a toll on me too.. My grandmother died from cancer at 98.. I felt cheated ..Like if she hadn't of gotten the cancer I would have had her around to enjoy for a few more years.. I've known so many people near and dear that have had or have died from cancer it scares me to death.. Its constantly on my mind.. Am I going to die from cancer.. I've had some skin cancer cut out.. Does that mean its going to eventually get me.. I wish they'd find a cure for just this one thing if nothing else.. I think we are all pretty resiliant normally but cancer of any form we just dont seem to be able to defend our selves from... Tammy
8 responses

• United States
1 Apr 07
It sounds like both of you have been through alot. I think you both need some time to heal. I do believe its alot of mentall stress on both of you. In time you both will be fine. I wouldnt worry so much Tammy. Cancer is not going to get you. stop thinking like that.

• United States
1 Apr 07
Thanks.. I sure hope I dont get a sreious cancer.. And my husband has been cancer free for 2 years so I just keep praying everyday that it doesn't come back.. I think I worry more about him then myself.. I'm one of the people that usually is taking care of others.. I don't like it to much when it comes my way cause it means its serious.. Tammy

• Philippines
1 Apr 07
dont lose hope my friend he will be cured just dont lose hope and always pray to God always for strenght and perseverance...is your husband on diet now ?? i mean some said that when you are diagnosed of cancer you must not eat any meats..and always eat fibrous foods ,vegetables and fruits..theyve said its effective

• Sweden
1 Apr 07
you're right gemini... never ever lose hope. one day, scientists will find one good cure for cancer. and that many people will have longer lives from it.

• United States
2 Apr 07
Yes he does watch what he eats now and I'm constantly shoveling vegatables and salads and stuff like that down him.. He didn't eat alot of healthy food before but he asks me all the time now if its good or can he have this or that.. It made him more awear of what he does eat which is a good thing believe me.. Tammy

• Sweden
1 Apr 07
i am glad to know that you're husband's over the prostrate cancer thing. you had been there for him all the time. it's sweet of you to do so. not most partners are as strong like you and not all husbands are as willing as your husband to fight cancer. some just give up. as for you, i am happy to know that you are skin cancer free, too. that's just a bit scary as well. and i hope you won't suffer from cancer just like your grandma had. hope that you have many more healthy years to share with us here! take care, okey? be fine and be healthy!

• United States
2 Apr 07
Thank You your sweet too.. We both keep truckin on along and I hope for many more years with him and this world.. Tammy

• United States
1 Apr 07
i would suggest reading natural cures by kevin trudeau. he states that there are many natural cures that the government does not want you to know about. and this is because of money. the pharmaceutical companies are paying off government to keep these natural cures away in order to keep money flowing. i would also suggest watching "the secret". they have a couple of illustrations of people whom cured them selves just by having the right state of mind. the body is structure to heal itself. disease cannot live in a stress free body

• United States
2 Apr 07
I believe in natural products but I don't think I believe in curing ones self.. Tammy

• India
1 Apr 07
please do not worry go to astha channel 6 to 8 a.m.

• United States
2 Apr 07
I don't get that channel.. But thank you.. Tammy

• United States
1 Apr 07
Wow, i am really sorry to hear about your husband and your grandmother as well. Here is something you should know, though: It is illegal to CURE someone in the United States. Plain and simple disgusting fact. Other countries may have cures, but the treatment is never legalized in the US. In fact, if someone DOES come up with a cure here, they are paid off to never maret it. Someone actually discovered a cure for diabetes. They were paid off to toss it out. However, in other countries, diabetes is cured. The same could be the case for your husband's form of cancer. Perhaps you can do a little research and if you find somewhere that DOES have a cure, you can go there and get the treatment and he will be better forever after that. It's worth a shot, even if you come up with nothing. At least you have tried that way.

• United States
2 Apr 07
I haven't heard about a cure for cancer or diabetes but if there is one out there I don't think anybody our government included has the right to with hold the treatment from the people.. Tammy

• United States
1 Apr 07
i think there is a cure for cancer but insurance companies would loose alot of money if people were abke to give treatment that would work. yes cancer is something to be worried about just make sure to go to your regular doctor for a physical yearly. i have had a grandmother and grandfather die of prostate cancer. i hope your husband is okay now.

• United States
2 Apr 07
Yes he is ok now.. Its in remission and I just hope that he can live out his time without it coming back.. But you may have something there about the insurance companies.. I think they control alot more then they should be able to control.. Thanks.. Tammy

• United States
1 Apr 07
I am glad to hear your husband's treatments are finally over - that is a scary ordeal for both of you. Cancer does take its toll on so many - it is hard to imagine that there would be anyone alive who doesn't know someone who has had cancer. Keep the faith alive and know that you are not alone on this battle. Defeat and fear are the enemy here. I am fairly certain that cancer will be a beaten disease in our lifetimes.

• United States
2 Apr 07
I sure hope there will be a cure in my lifetime.. There are so many forms of cancer its unbelieveable.. And for all the gains there are loses.. I do believe that faith and positive thinking can and will go along ways.. Thanks.. Tammy