just in time for easter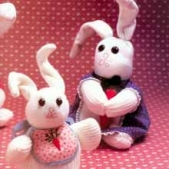 Australia
March 31, 2007 7:29pm CST
SOCK BUNNIES These beaut bunnies, made from long white socks, are easy and lots of fun to create. In no time at all you'll have a whole rabbit family!For each bunny you'll need A man's heavy long white sock Fabric and felt scraps 2 black buttons Embroidery thread White pompom Toy filling White string Lightweight plastic-coated wire Snap fasteners Here's how Step1 Cut enough ribbing from sock top to cut two 5 x 7.5cm legs and two 6 x 9cm arms. Set aside. For ears, turn sock inside out and sew a narrow V in foot, making sides of V about 19cm long. Slit sock to point of V, trim and turn through. Insert wire in each ear; tie string around base. Stuff sock with toy filling so heel forms face. Tie string around neck. Stuff body and gather the bottom closed; stitch. Step 2 Embroider face using pink thread and runningstitch. Add button eyes. Sew up each arm and leg by folding in half and stitching along edges, leaving an opening. Turn through, stuff and slip-stitch closed. Attach to body when making clothes. Step 3 Clothes Jacket Not shown but suitable for Mr Bunny Cut two 14 x 28cm rectangles from fabric. With right sides together and 6mm seams, sew along all edges, leaving an opening. Turn through and slip-stitch opening closed. Cut two 9 x 12.5cm rectangles from same fabric for jacket sleeves. Hem long sides. With right sides facing, fold each sleeve in half crosswise and stitch edges together. Turn through and slip over arms; secure at wrist. Wrap jacket around body, folding top over for collar. Add ribbon tie. Sew arms and sleeves to jacket. Tack legs and pompom tail to body. Dress For Mrs Bunny Cut a 12 x 50cm skirt. Hem one long edge; add lace. Gather opposite edge to 25cm length. Cut two 9cm squares for apron. With right sides facing and lace trim between layers, stitch together; round corners and leave fourth edge open. Turn through and centre apron on skirt; baste. With right sides facing, sew long edge of 10 x 25cm bodice to gathered edge of skirt. Fold bodice in half lengthwise. Hem raw edges; add snap fasteners at back. Attach arms and sleeves, tail and legs as above. Bib For Baby Bunny Bind two small, rounded squares of fabric together. Embroider carrot on front; tie bib around neck. Attach arms, legs and tail. Glue carrots from felt scraps. Tip For little children, do not use buttons but embroider on the eyes instead. Source: Better Homes and Gardens Craft Collection (Murdoch Books 1989; you may find this in libraries!)
6 responses

• United States
1 Apr 07
Maybe I will get motivated and do this. It sounds fun. I could have a whole bunch of white sock bunnies to keep me entertained inside, and the little brown hoppy ones outside for entertainment as well.

• Canada
1 Apr 07
This is pretty interesting and I'm passing this on to friends and family. Thank You Ms Tickle. Take Care

• United States
1 Apr 07
These are so cute. I will bookmark this page so I can come back to them later. THank you for posting it.

• Philippines
1 Apr 07
Hi tickle, just saw your picture on the other thread. You sure are one fun, cheeky friend. Should I still do those you're suggesting. I'm a real bunny myself. I might dress up a little to welcome the Easter day...LOL!

• United States
4 Apr 07
Thank you so much for sharing this wonderful craft with us. What a wonderful idea. I have given you a +++ rating for your posting. Thanks again.

• United States
1 Apr 07
Thank you so much for these little guys. So cute! My mom used to make sock bunnies many years ago... but they were a lot different. I may have to find a few min. this week, to get a few of these made. Awww... so many bunnies, so little time. :)