Who's going to win the World Series?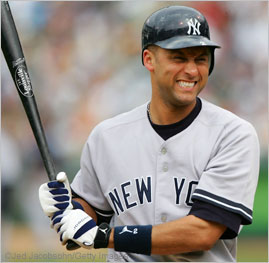 United States
April 1, 2007 2:58am CST
My pick is the Yankees over the Mets in 6 games. I think it will be Subway Series again, and I have the Yanks winning. Who do you think is going to win the World Series?
3 responses

• United States
3 Jun 07
I think that the Boston Red Sox & New York Mets will make it to the World Series. The Red Sox will win in 6 games. Josh Beckett will win the MVP.

• United States
13 Apr 07
I just had to remark about that picture below your name. He IS the best all around player in baseball, not to mention the best clutch hitter in baseball. But, the second best all around player is yet another Derek....Derek Lee.

• United States
13 Apr 07
I think it's going to be a shocker from the NL, the Cubs are going to the series. Our pitching is deceptively strong and we WILL have the Cy Young Winner in Carlos Zambrano (he's the second best pitcher in all of baseball by the way). And our offensive will be as powerful as any other team, including the Mets and Yankees. Actually I don't think the Mets will beat out the Braves, because storybook endings tend to be more common and probably than the obvious choices. Because of this fact, I don't choose the Yanks either to be there. I like Boston's chances for like the Cubs, their pitching is also deceptively strong and who can argue with Manny and Ortiz (second best clutch hitter in all of baseball)?