How's your health right now?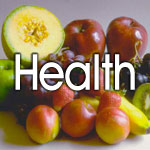 Philippines
April 1, 2007 10:08am CST
How is your health right now? I think I'm fairly healthy right now.. I'm 7 months pregnant though so from time to time I feel little quirks on my over-all health.. I just finished having a back massage (thanks to our nanny Rose).. It's due to the strain my heavy tummy is exerting on my back muscles.. I ask her to massage my back every night.. I get stomach upsets too.. and bouts of hyperacidity.. and heartburn.. 2 days ago I had diarrhea.. And I'd get headaches too because of the heat.. And it also hurts a little whenever my son is moving vigorously inside my tummy, which he does all the time.. Haaayyy..
4 responses

• United States
2 Apr 07
Your picture looks like you are a doctor.... Is this true... Please help me. I think that I have a bad medical condition but the doctors keep telling me it is nothing. I had a swollen lymph node. It went away after a week, I took Zithromax for it, when I finished my 3 doses I got worse, whatever it was spread up to my jaw and is hurting the most of my left cheek. There is also something I thought was a pimple inside my left cheek, but if I push on it something white and pointy comes out a little it feels like fishing line to me, but of course it is not, what could this be? I have headache neck pain on the left side, chest pain, fatigue, blurred vision, and upset stomache.......

• United States
2 Apr 07
I would like to add someone at my work had the mumps a week before I started feeling all of this and he said it started with a swollen lymph node, but I believe I would be feeling alot swollen that I do right? It is really scaring me, I am thinking that I have some kind of bone disease or something. My family is telling me that it is my wisdom teeth coming in, which they should be about now, but no teeth or gums hurt at all. Thank you .

• Philippines
2 Apr 07
Lymph nodes usually swell because of an infection in the body.. How many doctors have you seen for this? It's always good to get the opinion of other doctors if you're not satisfied with the explanation of the first doctor who checked you.. And it would be better for you to have yourself checked by a specialist, an EENT perhaps.. Good Luck.. Hope everything will be alright soon.. God Bless.. (n_n)

• United States
2 Apr 07
i have seen 3 doctors total now. I have found something inside my cheek, it looks and feels like a piece of fishing line, of couse it is not. Someone at my work told me that they had something like that called a jaw bone splinter. if I push on my cheek it comes out some. If I let go it goes back in, I went to the E.R. last night because of it, and she did not seem like she was concerned, as for my jaw that was hurting, it stopped hurting today at work. The only thing I am concerned about now is this thing poking out of the inside of my cheek, I was going to pull it out with tweezers, but I did not because I thought it might be something in there that i need. lol. But the lady at work who said she had one, she said that she pulled her's out with tweezers. And it was fine. If I gave it a try, could it mess something up?

• India
2 Apr 07
i can telll about it much bcoz i dont know about it and i m a boy here and mine health is good not so strong and not so loos but i m healthy no probl;em with my body so bye

• United States
1 Apr 07
my hight blood sugar went from over 300 to 60. I wonder what that is doing to my body!!!

•
1 Apr 07
It is pretty tough being pregnant, and you d seem to suffer more. However you should be reassured by the fact that in a couple of months it will be all over and you will have a lovely baby to look after. My health is pretty good most of the time. At the moment I can't say it is though as I have a cold, but it isn't that serious and hasn't stopped me doing anything.