Help....Car Sick...yuk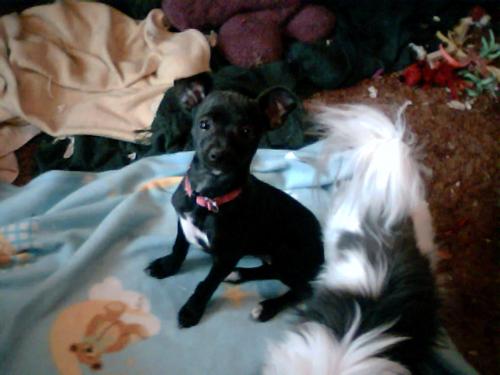 United States
April 1, 2007 5:32pm CST
Twice now I've taken my Chihuahua Bella out in the car and she has gotten car sick. She is only 15 weeks so she hasn't much traveling experience. Gizmo has never been car sick and he is 2. Have you ever had to deal with this...is there something I can do so she doesn't get sick? We were only going 3 miles this time...lol
7 responses

• United States
2 Apr 07
It sounds like Bella is one of these dogs that just get car sick the same as with kids one and does and the other doesn't, I would prefer to ask the vet as she is so young and I would be afraid to try any home remedies. How is she doing apart from that? Hope she and Gizmo are doing OK together. My Pepi and Schatzie are just wonderful and it is a trip to watch them playing together.

• United States
2 Apr 07
I left a comment on her photo.

• United States
2 Apr 07
Oh I hope she gets over it. I'll try taking her on short trips a few times and see if she gets more used to it. I would never give her any kind of remedy without first checking with the vet. She's the big boss now..she grabs Gizmo by his long hair and mops the floor with him...lol She has a purple easter bunny that plays a tune when you squeeze it...she parades around the house with it singing and when it stops she gives it another squeeze and races around a bit more...lol She wears me out just watching her. She does resemble Pepi...lol they both have those big bat ears...hehehe

• United States
2 Apr 07
Keep her in the front seat in her carrying case, not the back seat. If that doesn't help, ask the vet. She may need a mild sedative. ++ rating again, keep posting great sugar.

• United States
21 Apr 07
Thanks, I hope she out grows it or just overcomes it. It would make life much easier for both of us..

• Etowah, Tennessee
2 Apr 07
I think that she will get better if you keep taking her on short trips to get her use to travel. Be sure to take something to protect the seats though. Here is a good idea about doing this: http://www.pets1st.com/articles/00080carsickdog.asp Do not let her eat to soon before going on a trip. You can try putting her in the middle of the seat as there is less motion in the middle. Or in the floor so she can not see out. I would also call the vet and ask for advice. Good luck with her!

• United States
21 Apr 07
Thanks we took a trip downtown and back and she did ok. Of course it was only two miles round trip..lol

• Australia
1 Apr 07
Oh man, I know this only too well! Just persevere, the more she gets used to it the better she'll become. If she's on the passenger seat next to you, just reassure her from time to time and let her know everything's OK. I think all pups go through this and she'll get better the more she gets used to it and hopefully will outgrow it. My border collie dribbles like crazy and tries to put his head in my lap when i'm driving - geez am I covered in dog slobber at the end of my journey or what!LOL

• United States
2 Apr 07
Oh, jeez that sounds fun...not. I'm hoping it's just nerves or something. The first time she got sick was on the way home from getting her nails clipped. It was her first visit to the groomers. Then today we went to my brothers house for the first time and she rode in the back seat with Gizmo and got sick only 2 miles from leaving his house..luckily we only live 3 miles apart...hehe I feel bad for the poor little girl.

• Singapore
2 Apr 07
my then 1yr+ old dog oso have car sick. He will vomit out the food he ate, will get restless n will pant alot. 1st time we encounter, we were shocked! So the next time we din feed him any food before going out on a car ride but still it happens. And he is lying down on the floor not jumping up or sitting on the seat. i guess some dogs jus aren't good with car rides :)

• United States
2 Apr 07
Some dogs like humans get motion sickness. You can check with the vet to see if there is something to help with it. She might get better in time but I would suggest doing things slowly with her. Perhaps letting her sit in the car with it running but not moving. Do that for a while and then maybe drive down the driveway once she's used to the vibration of the car. Build up slowly and let her get used to each part first.

• Canada
1 Apr 07
Have you ever tried a small amount of gravol for them . They say you can give an animal the same as what you would give to a baby . But to be sure you could try contacting your vet to see how much you could give and what would be considered safe . Best of luck !!