Do you want to know the WORLD'S POPULATION???

Philippines
April 1, 2007 10:18pm CST
Don't get me wrong guys, Im not a fortune-teller or something. I'm actually trying to refer you to a site that I have found just a few minutes ago.. It displays the estimated population of the world IN EACH AND EVERY SECOND THAT PASSES!!!! I couldnt imagine how quickly this is happening and how the world is getting more populated these days.. The link is: www.eolss.net I believe this site is related to the UNESCO and the 'EOLSS' means 'Encyclopedia of Life Support System' Guys check this site's feature on population. I really think it's cool!!
4 responses

• Philippines
2 Apr 07
It could be a very good estimate of the world population but I bet that there is more being born every second or moment. There are still areas that is not connected to computer or children being born in this world that is not being recorded. In our country for example there are still very very remote areas and that women just give birth at home.

• Philippines
2 Apr 07
That's a cool link to bookmark! :) Thank you. At the rate the babies are being born in the Philippines, I don't think our archipelago can take any more, LOL!

• Philippines
2 Apr 07
Yeah I think you're right. The population growth rate of the Philippines is way too enormous than it can actually handle physically and economically. Some Pinoys aren't thinking properly about this issue. They keep on creating kids without considering the aftermath of what they're trying to do...

• Canada
2 Apr 07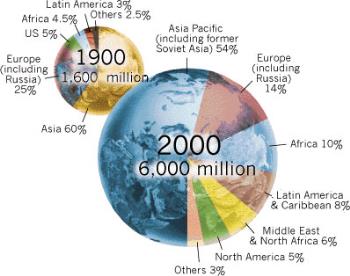 According to the International Programs Center, U.S. Bureau of the Census, the total population of the World, projected to 04/01/07 at 03:19 GMT (EST+5) is 6,586,100,324

• Philippines
2 Apr 07
Wow!! I really think that estimate is also approximately equivalent to the estimates that are given at www.eolss.net . Can you please share the website of that International Programs Center.. Im just interested about these projections that they are exhibiting... Thanks a lot!!!

• Philippines
6 Apr 07
That's a nice and interesting site. Now I know it's true. That every second there's a new life coming out. But I think it's balanced because as a new life comes out, there are also ones who are dying. God really are amazing! He creates a new life every second and it's all unique! How did He do it? Frankly, it's very mind-boggling, but that's God and He can make all things possible - Ron Reyes www.ronreyes.co.nr