Ey friends, another shot i took in Boracay! ...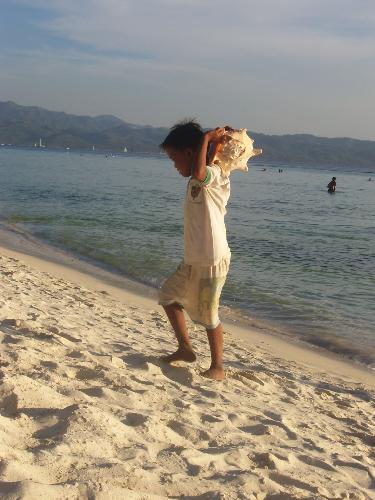 Philippines
6 responses

•
5 Apr 07
i love this picture you have done a really good job it makes me wish i was there

• Philippines
2 Apr 07
I've never been to BOracay..I heard a lot about it though... would you recommend bora to me this summer instaed of BOHOL... nice shot...done like a pro...=)

• Philippines
2 Apr 07
Wow thanks! i'm just starting with my new hobby, photography. . . I've never been to Bohol, but as they say its also a nice place. But bora, ohh bora! Just came from boracay yesterday. Would you believe it was the 23rd time i'd been there? haha. There's no place like bora tlga! ... Well, if u happen to visit the place just buzz me around. I could recommend you to some nice place there. Take care. (",)

• Philippines
2 Apr 07
whoa....am planning a vacation actually this coming may 2007... pls...pls..message me for some info about getting there.. thanks in advance..

• United States
10 Apr 07
I love this photo. If you don't mind i would like to make a few suggestions, not in the way you shoot though but in post-production. Since the shell, the child's clothes and the sand's colors are almost identical, try editing it a little bit to highlight some details and make the subject stand out. Even the simplest editing tool can do the trick. I hope to see more photos from you in the future.

• United States
5 Apr 07
Nice photo. You made the kid center of attention. Maybe you could make it to where he is in either the lower left or lower right corner against the beach. It'll symbolize one small person against a large ocean.

• Egypt
2 Apr 07
I like the photo, it's nice, the subject and idea are good and it's well composed, I'm not really an expert but I can say it looks good :)

• Philippines
2 Apr 07
I've been there last year.. I enjoyed the most is the night life there in COCO MANGAS.. Hope you visited it there.

• Philippines
2 Apr 07
Oh yes, lots of bars and restos great for night lifes. . cocomangas is nice, great for party people but not to me anymore. I've already passed that stage. . I'm more into mellow sounds now. We were at the boracay mandarin the other night listening to love songs, how abt that? hehe. (",)