money for surveys

United States
April 2, 2007 2:57am CST
I joined cashcrate.com and it's the real deal. I've been paid twice, for a grand total of $33.80, and it only took about 2 hours to earn that much. You fill out surveys, do free trials of merchandise, and get paid for it. It costs nothing, and I've got the checks to prove it. You can try cashcrate.com and join, or if you want to be in my downline (which gives you the benefit of mine and my referrer's experience) you can PM me for the link.
4 responses


• United States
6 Apr 07
You can start immediately. No fees, no catches. Just login, hit the "complete offers" link, then in the middle of the next page, there's a drop down. It says "all offers" and has an arrow. Hit that, and select "100% free." Then start raking in the dough. If you don't mind, you can sign up in my downline at http://www.cashcrate.com/index.php?ref=168159. It'll be easier to give you tips and help, but don't feel compelled to.

• Australia
2 Apr 07
Does this site just do cheques though?

• United States
2 Apr 07
At the moment they only send checks. There may be plans in the future to use paypal or e-gold, but personally, I trust cold, tangible paper over bits in cyperspace.


• United States
2 Apr 07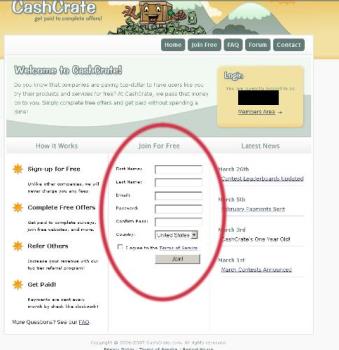 There's a pane in the middle of the page to create an account. PM me if you want to be in my downline. Being in a downline helps you in that I can send you helpful hints as they arrive, tips and tricks to earn more money, and the like. PM me for the referral link. If you want to go solo, just create an account. The fields you need to fill out is the stuff in the circled area in the picture.