What we did on Easter when I was a little girl........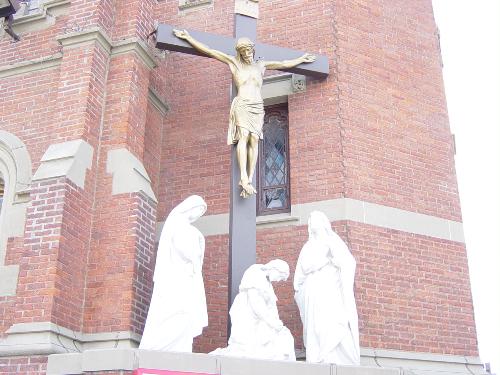 United States
April 2, 2007 12:20pm CST
Easter........When I was 8 years old, I remember getting all new clothes. I would get patten leather Mary Jane shoes, that I used to shine with Vaseline. (YUK) I wore little white lace cuffed socks and a new bonnet, it was never called a hat. LOL. And the fashionable pastel colored coat and dress. I was happening!!. I have film from that year, dancing and singing at a family gathering. Looking for all the world like a dork!Did you ever wonder why did you get new clothes for Spring and the 1st day of school? One was fun and the other was need. Spring colors and fall practical colors. Patten leather Vs buck skin. Silk and lace Vs cotton and wool. Flowers Vs note books. While most of us love the smell of spring, some of us still prefer the crispness of Fall. Well, anyway back to my thoughts....... We lived in Brooklyn, and did not have a car, (even though my father was a cab driver). So when we went visiting we would take public transportation. On the bus or railroad, we would travel to one of my father's sister's home. As I sat by the window, I would pass through different neighborhoods. High above the street, I would look into there homes and apartments. I could smell their cooking and hear their music. In Brooklyn, neighborhoods, were like small countries. They held people from different countries. Jewish, Irish, African American, German, Oriental, Italian and on and on. I would see how they were getting ready for the different holidays. All had different decorations and different ways of celebrating. Some were very different from my own. Their children had the same hope and dreams and the same fears and worries. They needed to set goals and ideals. There were living day to day. The family unit was very important to all of us. We worried about education and money. We laughed at Red Skelton and Martin & Lewis. We cried at the movies, Imitation of Life and TV shows, Queen for a Day. Our TV's were still in black and white, and we didn't have disposable camera's. We would gather around the radio and listen to great mystery show, our imagination went wild. We had Sunday dinners and Monday left overs. We waited for the street car, to go to the movies. And meet friends as went walked to church. Saturdays meant no homework, and Fridays meant we would eat fish. Tuesdays, Wednesdays and Thursday meant to early to bed and lots of homework. We all shared a common bond, Tradition. So what ever your tradition, Happy Holiday. Carolee Kaufold "may be reprinted with proper credit"
6 responses

• United States
2 Apr 07
I remember getting beautiful new dresses and patent leather shoes. Then we would go to grammas and Easter egg hunt. Later on in life we did the Easter egg hunt at home and always got a 1 lb solid chocolate Easter bunny! A tradition I have kept with. I always get my daughter a 1 pounder solid chocolate Easter bunny as well as other Easter goodies (She's 23). I love the tradition of Easter. I am debating getting my 14 month old grandson one this year. But my daughter will definately get hers! happy Easter all!

• United States
2 Apr 07
I loved Easter when I was a child. We would have our new Easter clothes the weekend before. A new dress with patent leather shoes. (boy did I love those shoes) I couldn't wait to wear my new clothes. On the morning of Easter we would look at our Easter baskets and then start looking for eggs. (Sometimes that would take several days before we would find all of them). When it became late morning we would get dressed in our new Easter clothes. Our grandparents and anunts, uncles cousing etc. would come over. Us kids would play all day. What good memories.

• Canada
2 Apr 07
What a refreshing little story of what life was like for you. It all sounds like fun and I missed out on all this good stuff, but I'm glad you have the memories of all this. These are indeed good memories. Take Care.

• United States
2 Apr 07
I remember getting a new dress and shoes. When we wake up on Easter morning we would find our Easter baskets filled with candies, then we go to church. There would be a big family gathering after dinner and have Easter egg hunts.

• United States
5 Apr 07
I remember my black, shiny patent leather shoes. I would get upset if it rained and they got spots on them. Dad would take his kerchief and bend over to shine them up for me. My sister and I always had matching white dresses with matching hats. She is three years older than me, so I was always honored to get to dress like her, at least for one day of the year. We would go to Easter Mass. No matter how hard he tried, Dad would always fall asleep during the old priest's sermon, as it was very long. The only thing that would wake him up would be a lady behind him, singing loudly and off key. He'd snap awake and join right in with whatever song we were singing. After mass, we would change our clothes and look for the eggs Dad hid , gosh it must have been in the middle of the morning. We had colored them all the night before, dozens upon dozens. Dinner would always be a big ham, with Mom's delicious ham gravy. Ham gravy on mashed potatoes was a wonderful taste. After a dinner with all the fixin's, we would have a family game of Monopoly. The times we spent together are some of my most treasured memories. Each holiday always brings these memories to surface. They remain in my heart and mind always. God Bless

• United States
5 Apr 07
I loved easter when we was a kid. My grandma on my dads side (we didnt have alot to do with them & only saw them on holidays) but on Easter my grandpa would buy me & my sister a new dress & new shoes & bring them to us. He did this every year. My grandma never came with him, just him. But that wasnt the great part for me. We was close to my moms family. I even lived with my grandparents & a few aunts for a while. My moms family is huge. She had 7 sisters & a brother. I had 74 cousins on her side. At least half of them was the same age as me. The whole family would come over & all of us kids got to hunt eggs together. This lasted all day long. About 10 at night we would have a camp fire & roast marshmellows & hot dogs along with alot more great games & activites. It was loads of fun!