Chicken And Peanut Stir Fry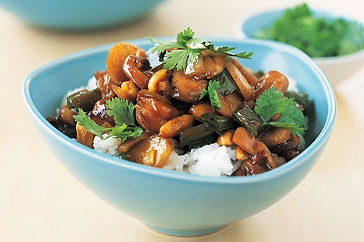 Australia
April 2, 2007 4:27pm CST
Simple food never goes out of style, and with this tasty stir fry, you'll have a healthy dinner on the table in minutes. Ingredients (serves 4) 500g chicken thigh fillets, cut into 1cm cubes 1 tbs caster sugar tbs hoisin sauce 2 tbs soy sauce 1 tbs peanut oil 1 green capsicum, chopped 1 small onion, chopped 227g canned sliced water chestnuts, drained 2 tbs Chinese rice wine (shaohsing)* * 1/2 cup (75g) peanuts, roasted Steamed rice, to serve 1/2 cup coriander leaves Method Toss chicken in sugar and 1 tablespoon each of hoisin and soy. Heat half the oil in a non-stick wok over high heat. Drain half the chicken and stir-fry for 5 minutes or until cooked through. Remove from pan with a slotted spoon. Repeat with remaining oil and chicken. Reduce heat to medium and add capsicum, onion and remaining hoisin and soy. Stir-fry for 5 minutes or until tender. Return chicken to wok, add water chestnuts and rice wine. Simmer until wine is reduced by half. Remove from heat and add peanuts. Serve on rice. Garnish with coriander. Notes & tips* Chinese rice wine is from Asian supermarkets. Substitute dry sherry.
5 responses



• United States
7 Apr 07
That sounds really good, except I'll use Tofu instead of Chicken since I'm a vegetarian.

• United States
29 Oct 08
Sounds good. My hubby may want to try that. I am not so found od Peanut, but I'll give it a shot.

• Trinidad And Tobago
3 Apr 07
Penne with Greens and White Beans Beans and greens -- with plenty of garlic -- are a classic combination in Italian cooking. And with the red bell pepper, this easy vegetarian pasta dish features the colors of the Italian flag! Credit: Slim-Fast Servings: 4 Ingredients: 4 teaspoons olive oil 4 cloves garlic, peeled and minced 1 medium red bell pepper, cored, seeded and diced 2 pounds fresh greens (spinach, kale, Swiss chard or escarole), washed thoroughly but not dried, stems removed, and torn into bite-size pieces 4 teaspoons balsamic vinegar 1/4 cup vegetable stock 2 (15-ounce) cans cannellini or other white beans, drained 8 ounces penne (or substitute other tubular pasta such as rotini or ziti) 1/4 cup grated Parmesan cheese Directions: Heat the oil in a large nonstick skillet over medium-high heat. Add the garlic and pepper, and saute 2 minutes. Stir in the greens, vinegar and stock, cover the pan and cook until the greens are wilted and tender but still bright green, 5 to 7 minutes. Gently stir the beans into the greens mixture, set aside and keep warm until the pasta is ready. Meanwhile, cook the pasta according to the package directions, until al dente. Drain. Add the pasta to the greens-beans mixture and gently mix. Top each serving with 1 tablespoon of grated Parmesan.