My flower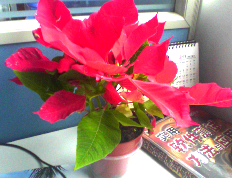 China
April 3, 2007 4:26am CST
My flower has outgrow some leafage. Every time I look at those new leafage will very happy. The flower has been called "Christmas flower". I was bought it in the Chinese New Year at the flower market. My colleague told maybe it will be dying because it hasn't root. But now how she is beautiful! Do you like foster flower?
1 response

• China
4 Apr 07
how red your flower is!it must be sweet-smelling.it looks beautiful.

• China
4 Apr 07
Thanks for your responds! I hope everywhere there are flowers in the world. I believe flower is the gift by god.