Are their ANY legitimate money making programs out there?

United States
April 3, 2007 8:49am CST
OK...before I get bombarded by a million affiliate links...hear me out. Just like the rest of the world, I'm looking to earn money part time from home. I can't see how anyone can realistically make "millions" by paying a $7 sign up fee. I ave tried the whole affiliate marketing thing, I've wasted HOURS on traffic surfs, signed up for DOZENS of different programs and spent a small fortune on eBooks and software and even though I haven't given up and have a degree in Marketing...it seems like the circle of Affiliate Marketers out there seem to bounce the same crap off one another and no one really gets anywhere! Am I alone in this thought process?
5 responses

• United States
3 Apr 07
Please visit my profile and then my website. I have read several of you postings and feel that you would be awesome at my busiess. Your IT experience could come in handy as my team is working with Webinars lately in order to reach everyone across the country. It seems to be the perfect tool for us but we are still ironning out glitches. We are not get rich quick. We all work very hard but work on our own schedules. It is not easy but it is simple. I have completely replaced my income from my last job. Please add me as a friend and write me with any question you might have.

• United States
3 Apr 07
oops, typo. I have read several of 'your' postings

• United States
4 Apr 07
Please feel free to send me more information! I'm open to anything at this point. I have a lot of knowledge and my specialty is Internet Marketing. (I professionally consulted businesses at my last position..my favorite client was McDonalds!) It's harder to make things happen without a budget otherwise I'd freelance but in order to do that, I need a website and I HATE writing code and DON'T have a "designers eye". Im a developer, NOT a designer...I can make a website functional...just not pretty. :)lol

• India
4 Apr 07
I really doubt if there atre any. I have looked into many and most of them take a lot of time of yours to browse and register. After that you get nothing. I feel they are earning by taking advantage of u but are not paying you. I have kept myself away from these.

• Canada
4 Apr 07
I agree 100% with getting bombarded and over whelmed with the amount of programs out there that promise you millions or bare minimum thousands I have searched high and low for a decent one. Not just any one but one that I can put 100% myself behind. A program that I believe in with my herat and soul. I just hate all the promises and hyip that goes with each one. You are definitely not alone. Your thought proces are totally intact. Keep looking until you yourself can believe and trust what you are doing is worthy. There are programs out there that do just that. I am not even going to go into the details of the program. I hate losing money, being sucked in for false promises and worst of all doing it more than once. You must admit we have all been sucked in more than once. If you must read this first. No BS NO MONEY FREE If you don't want to sign up that is fine too I am going to give 2 links here One is emailed to you the other you can read online http://www.blogchex.com/wendyswhimsy/? (the online one) http://internetwealthreport.info/s/?id=Wendy You are the same as the rest of the world. The first link is to my blog which deals with ID theft and another short sorta story I believe in Best of Success online and off Wendy

• United States
4 Apr 07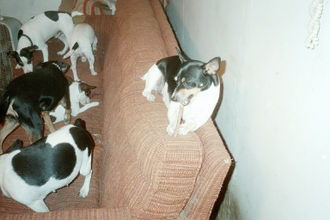 I have worked at home for several years. I started with a company doing some telemarketing. It was allright. http://www.employmentfromhome.net/p164575/ I work for 3 companies now. Two taking calls for info commericals and 1 doing searches. http://www.workathomeagent.com/ http://www.workathomeagent.com/ApplyOnLine.asp http://www.liveops.com/ http://www.liveops.com/become_agent.html http://www.chacha.com http://www.chacha.com/info/guidesignup You might also check out http://www.workingsolutions.com/ http://www.workingsol.com/agents_page/ http://www.verafast.com/job_opportunities.htm http://www.verafast.net/Questionnaire.htm http://www.magicalgift.com/index.html http://www.cloud10corp.com/careercenter/overview.html http://www.untroddenroad.com/ http://www.whydowork.com/work-at-home/employers.php#2 http://www.momsforlife.com/?CC63143 http://www.mtdaily.com/ http://www.mtjobs.com/ http://www.workathomecareers.com/workathomejobs/ http://nontoxicdogs.blogspot.com/ http://nontoxicpets.blogspot.com/

• United States
12 Apr 07
Thank you so much for ALL the wonderful resources! Your post is DEFINITELY appreciated!

• Philippines
4 Apr 07
There must be some good and legit programs, I love myLot, Havent you earned yet, lol.. okay, you mean real money on the net. Let me visit this tread again to check what offers have you. check this out, http://www.fummo.com/?reff=3057 http://www.freewebs.com/melchmarketing/