Here is one of my creations that I make and sell

United States
April 3, 2007 1:35pm CST
Hi just thought I would share one of my creations that I make and sell for dogs. I am hoping to get this off and running as a full time business. If you are interested in any of my items just pm me and I will get back with you. All of my creations are one of a kinds. I usually buy enough fabric to make one of each style of outfit. Thanks for reading my post. God Bless.
6 responses



• Etowah, Tennessee
4 Apr 07
I pm-ed you. I am interested. I have had trouble posting photos also. I sent mylot a p.m. and they just said I should be able to post photos! I think it is only ones I took myself. If I do one that is from the Internet, it works, go figure. Good luck with the business venture.

• Etowah, Tennessee
6 Apr 07
Can you crochet a sweater? I saw below that you do cat toys. I would love a sweater!! That is what I can not find to fit. i also like the raincoat I saw in the e-mail, in case you did not get the pm. I will measure her soon. I think the measuring tape is here somewhere!!

• United States
6 Apr 07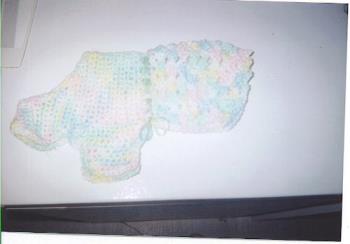 I did crochet one for my grandparents I will upload a picture but this is the only color yarn I have. It will probably cost more than the others because the material will be atleast $2.00 or more. But let me know. I will have to see about how much yarn it would take depending on the measurements.


• United States
3 Apr 07
I dont see the dog outfits that you are making. Is it my computer or what. I really wanted to see. I have an Eskimo Spitz puppy and wondered what you were making.

• United States
3 Apr 07
I am trying to get it to download. I don't know what I am doing wrong. I will try again. I can make them for almost any size I have to just have the measurements of how long from the collar to the butt and around the widest portion of their chest behind the front legs.