Who is the leader of the Rockets?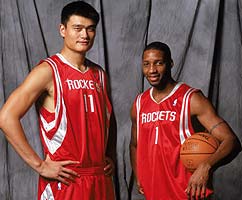 Hong Kong
April 4, 2007 2:21am CST
Big Yao or T-MAC? what's your opinion?
9 responses


• United States
8 Apr 07
Ahhhh. Unfortunately its T-MAC. As a previous poster said Yao hasn't asserted himself as the team leader as T-Mac has. However, in restrospect, Mutombo may very well be the third runner up. Thats the thing about the Rockets. They are more of a collective unit including the bench. No team leader is really needed, however, playoff games do need a go to guy to keep the team together throughout the stressful times.

• Philippines
7 Apr 07
Yao Ming is the leader of the Houston Rockets. He is the best at his position.

• China
6 Apr 07
it maybe a strange thing. from the time when big yao hurt,t-mac has had a strange action. when yao comes back, t-mac often has no team-cooperation. is it my illusion? wish it. come on ,all rockets players,especially t-mac.



• China
4 Apr 07
yao and t-mac in last few games, i always have a thought.that is i feel t-mac looks like not want to throw the ball to yao. they should be a team,but i donot see it. the strong they had in last last year sees none like wind flows. it is a pity. when they become a team,when they can be successful.