Do you own your dog or does your dog own you?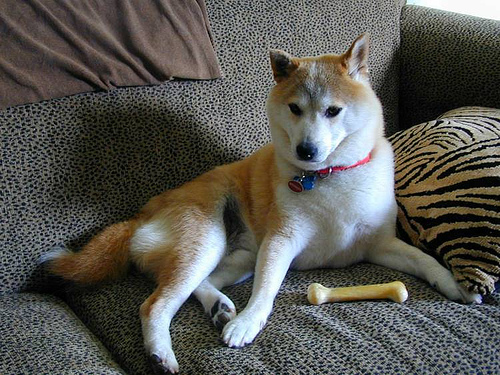 United States
April 4, 2007 4:45am CST
I am definitely owned by my dog. He has me conned pretty good. I have been up all night. Every two hours Miko wants to go outside to use the potty. For some reason he felt the need to inhale his water. So, every couple of hours he gives his patented Shiba Scream! He is a Japanese Shiba Inu, and right now he is not on my most favorite persons list. But when I look into his face and he gives me that look, I just can't be mad anymore. Yes, I am owned.....big time.
4 responses

•
4 Apr 07
I don't blame you,lol.They are cute when they want to be and even if you are angry ,they will make you melt.I had one and yes,she pretty much owned me too.When I was at home there was not a single moment when she wanted to leave me alone.They understand friendship better than us.

• United States
4 Apr 07
Yes I agree, our pets are very loyal and unconditional when it comes to love. When I am feeling blue, he will come to me and sit by me and make me feel better. He will bring his toys to me so we can play. He is such a joy to have around.

• Philippines
4 Apr 07
Dogs are "deceivers" :D. My dogs easily get my attention turned on them easily. Their cute eyes and perspiring nose are just so irresistable. When they jump up to my lap, I just can't help but hug them. Since I only have 1 kid, I consider them my son's "siblings".

• United States
4 Apr 07
I know what you mean! Each pet has individual traits that really draw you to them and make you fall in love. My dog is just adorable and he yips at me when he wants to talk to me. He is older and he thinks he owns the house LOL!

• Canada
4 Apr 07
Oh yes we are owned by our 4 pound Maltese. We are very happy with our dog and would never part with this bundle of pure love for any amount of money. I'm so grateful to have such a loyal and trusting little buddy. This is not a dog to us this is a child.

• United States
4 Apr 07
You are right, I feel that my little guy is part of the family. I don't really consider him a dog otherwise, he is like the little old man of the house! He is very finicky and sometimes I think he has himself confused with a cat and human. He is just a blessing to have around! I just get irritated when he tears up my daughters socks and undies. When he gets upset with her for being gone too long, he will sneak into her rooom and steal her socks and undies and tear them up, then leave them there for her to find. LOL

• United States
4 Apr 07
My Buster also owns me. Buster needs his attention from my wife and I after we've been gone. Even if it's been just an hour he NEEDS affection. We have spoiled him rotten I know but why not. He has to do his daily tricks for us for his treats. Sometimes we don't even ask for him to perform them. So he has us wrapped around his paws I'd guess. Hee hee. My Buster owns me & I'm proud to admit it. HAPPY POSTINGS FROM GRANDPA BOB !!~

• United States
4 Apr 07
I completely understand what you mean! Our Miko is much the same! He does his tricks and he talks to us. He started doing that a few months ago. How he talks to us is he makes little yipping sounds and hops from one paw to another. It is the most adorable thing! Yes, we are wrapped around his little paws too and I am proud to say it.