What crafts do you do?

April 4, 2007 7:23am CST
I'm one of that legion of jewellery-makers, though I don't have much time for it at the moment around university and work. I also like to make journals, and cards occasionally. What crafts do you make? I can't post photos yet unfortunately, or I'd post a few of my creations here, but I'd love to see photos of yours, or links to websites as I'm always looking for DIY stuff to buy instead of buying mass-produced things.
6 responses

• United States
4 Apr 07
This seems to be a popular topic. I love doing crafts and one of my favorite was toll painting. If you've ever seen Donna Dewberry on one of the shopping networks than you know what this is. The technique involves double-loading your brush with two different colors of paint to create dark and light shades with making flowers. I've used this painting technique to decorate cards, journals (my own journal is decorated this way), napkin holders and plaques. It's easy to do and makes nice gifts.

• United States
4 Apr 07
I used to one-stroke paint! I painted a little floral mural on a hallway wall. It turned out really lovely, and the kids spent a lot of time in their "fairy tale" hallway! LOL!

• United States
4 Apr 07
I have dabbled in a lot of different crafts. Quilting/sewing is by far my favorite. Some of the others that I work on, but not frequently, are paper making, quilling, candlemaking, crocheting, and knitting. All take more time or make a big mess that I'm not patient enough to deal with. (Like quilting doesn't make a mess!! LOL!!) Pictures of a few of my quilts that I've remembered to take pictures of can be found in my webshots album named "quilts." www.community.webshots.com/user/cmbottorff My sister enjoys making jewelry. She makes some really beautiful necklaces and braclet. Unfortunately, it's not a hobby that I've been wanting to try. I'd love to see some of your work. :)

• United States
9 Apr 07
I'll be waiting patiently for your photos! Thank you for the Best Response! :)

• Singapore
9 Apr 07
Oh, I used to do cross-stitching. I loved it and I missed doing it. I got started in cross-stitching in high school. I gay friend was doing it during recess and he thought me how to do it. I got hooked. There was a time that I couldn't stop cross-stitching and I would spend an entire day on a project. LOL. I'm not much into jewelry making but my best friend is. She makes these cute swarovski bracelets and even gave me one for my birthday. I don't think I would have patience for jewelry-making. It's so intricate.

• United States
6 Apr 07
I have many crafts that I endulge in. I guess that also depends on what you consider a craft. For me, I love to draw. Believe, me or not I recently took up wood working. Not in the sense you would think. I make wooden swords for practicing swordplay. I am a BIG dork lol. You know some people would say "gaming" is a craft lol. I really do like crafts though. I like to do those little play dough people sometimes as well..

•
6 Apr 07
My partner's into his gaming too, though I don't think he's done any of teh live action stuff as far as I'm aware. Personally I can't get on with anything outside of a computer screen, though apparently I'm a total geek for having been addicted to Baldur's Gate 2.. I really enjoy drawing... however I'm terrible at it!

• United States
4 Apr 07
My best friend recently taught me to croche. I have already made 2 blankets and I am working on my 3rd since New Years. I do not have have any pictures at this moment but I can tell you that they look beautifull and they are very warm. I am planning on making blankets and selling them on ebay once Ican get my hand on tons of yarn.

• United States
10 Apr 07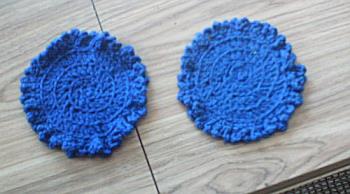 I haven't been working on crafts as much as I used to because I have been typing things out here, ha ha. I mostly like to work with yarn right now. I am making a very large couch cover at the moment, but don't work on it every day. Next, I need to make a rug. I used to do a lot of cross-stitch and have entered many pieces into our local fair. But, sadly, I only have a picture of some coasters that I used to do a long time ago.