How often do you clean your bedroom?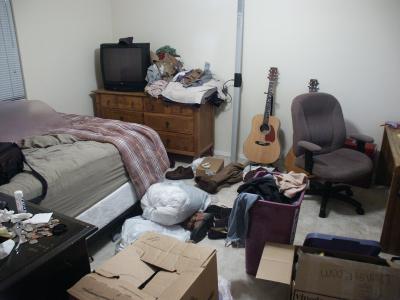 Philippines
April 4, 2007 7:54am CST
I've been working everyday and in the weekends when i'm off, i'm usually out so my room is a mess and the more i look at it, the more i don't want to clean it because it takes too much time. I'm feeling kinda guilty of my mess when my mom comes in my room and start complaining. H ow about you? How often do you clean your bedroom?
8 responses

• United States
4 Apr 07
Not enough. Our bedroom is a total mess right now, there is clean laundry everywhere just waiting to be put away. And soem clutter too. I hate it, but that's really like my last priority because who really see's it? Right now when I have time I like to make sure the rest of the house is in good shape, and the bedroom comes last, and it''s pretty obvious it does! It looks like a disaster, however i'm with you, i feel pretty guilty about the mess-my husband complains alot about it, but there is only so much time in the day!

• Philippines
4 Apr 07
yeah exactly especially when your drown with work but right now im trying to cope with the mess i have in my bedroom right now coz it's not gonna stay mess forever i have to do something about it.

• United States
4 Apr 07
I KNOW! Exactly, I need to take some action, but it's so hard to find the time! I am glad I am just in there to sleep, if I had to look at it, I would go crazy!!!


• Philippines
4 Apr 07
that's a good thing coz you don't want your partner to complain about it.

• Australia
9 Apr 07
When I get up I tidy everything coz my husband very untidy just leave everything on the floor pajama's etc. make the bed pat the pillows. vaccum once a forthnigth coz dust don't really come in window's always shot.just sray some room freshner to make it smell clean. I put some underbed boxes..to keep my things.

• Philippines
5 Apr 07
its a herculean task, but someone has to do it. and that mean you hehehe. i used to work nights before and i really didnt have any time at all to clean my room. but i got tired of the mess and it was adding to my stress. so i developed a routine, that in the last day of my workweek i would clean my room and do my laundry. for example, fri night would be my last workday for the week, as soon as i get home saturday morning, i would haul my laundry to the washer, while its spinning im cleaning and tidying my room. after i finish, thats when i sleep and that would be my rest day so i can have the luxury of sleeping a couple of extra hours, even go out the next day without having to worry about my messy room. you may not be able to do it like i did, but start from small stuff, like clear out the books and magazines, then the following week, organize your shoes, something like that. try to develop a routine, it works.


•
4 Apr 07
My bedroom is in a terrible mess as My new wardrobe still hasn't been put together so my clothes are still all over the floor, though I did hoover in there in the other day and I regularly clear out the rubbish.

• Philippines
4 Apr 07
I'm a certified true organized person. It was a habit I acquired since birth. If I see a lot of mess around, I feel that my world is a mess too. I clean my bedroom twice a day. I hate seeing even a small piece of paper on the floor. :)