What can you say about this picture i took? ...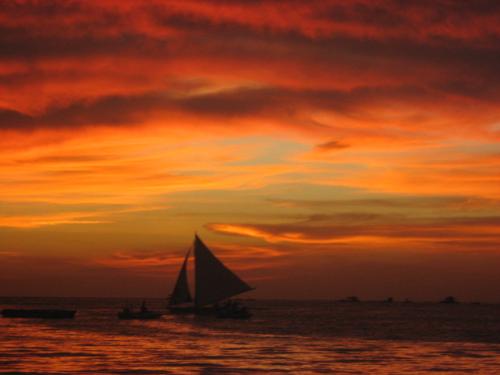 Philippines
7 responses

• Australia
4 Apr 07
Fantastic picture, although perhaps a bit out of focus. Perhaps would have been better (just a suggestion), if the boats were more over the right hand side of the picture and not heading towards the middle. That way you could see what they were towing and your eye would be drawn there naturally. Beautiful sunset! lol

• Philippines
21 Jul 07
The picture looks very natural. Full of life. Well done you!! i've been trying to take pictures like that, tried quite a few times but failed. Tips? well, am not a good photographer myself so i can't give you a very helpful tips. But i have a friend who loves photography. And he told me in order for you to get nice pictures you have to have an eye for a subject. Think of a concept, create a story and imagine. My friend likes taking snap shots or stolen shots, he said because it's more lively, and the facial expressions are more real.Its like there's a story behind the picture. One thing that helps you achieve getting nice photos are the camera lens. And of course you need to have a very good camera, much likely a bit expensive one. Hope my tips will be of help. And am sure you'll get better next time. You have the talent, with a good camera you'll be an expert. You did a good start! well done! :)

•
5 Apr 07
this picture is amazing you have captured the scene really well i feel like i should be sitting outside watching it

• United States
5 Apr 07
I'm not a photographer so I can;t give you any tips, but I can say that is a beautiful photo. I've never seen a sky so orange before.

• United States
5 Apr 07
I am not an expert but it looks good to me. I love pictures of sunsets. I am not great at picture taking so I don't have any tips for you. I just wanted to tell you that it looks nice.

• Egypt
5 Apr 07
it's really great, I love the "dreamy" feel of it :) I would have just took a few frames and tried to get more light on the boat, but i really like it, a work of an artist :)