My Son's Favorite SpongeBob Lines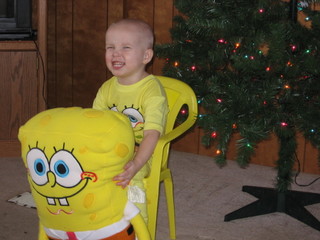 United States
April 4, 2007 5:31pm CST
My son is soon to be three years old. He is a SpongeBob fanatic. Lately, he's been repeating three different lines from SpongeBob SquarePants episodes. Coincidentally, they're all lines that Patrick has said: 1. "Hello SpongeBoob!" 2. "Good Morning Krabby Crew!" 3. "You got a dollar?" What are your (or your children's) favorite SpongeBob SquarePants lines?
6 responses

• United States
11 Apr 07
My son says "AWWW tartar sauce" He also says "darn it" when he wants to say the other word, like he does when gary runs away when spongebob takes the dirty bubble challenge. There are just various ones at odd times, but those 2 are consistant.

• United States
12 Apr 07
Ah yes, that's another one my son says occasionally, "Tartar sauce!"

• United States
4 Apr 07
My son is two and Spongebob is his favorite cartoon, every time it is on he is glues to the TV...nothing can drag him away from it! He doesn't say too much from it though, my daughter loves saying "I'm Ready, I'm Ready" over and over abd over.

• United States
4 Apr 07
Oh yeah!!! That's another of his favorite lines. The one from the Spongebob movie: "I'm ready! Promotion!"

• United States
30 Apr 07
My sons like to say "Money! Money! Money!" Like mr crabs!!!


•
29 Jul 08
my favourite line is quite lng because of her mysterious nature i will call here mystery, but now that i think about it she is also graceful and majestic, maybe i should call her grace,or majesty, or debie.