Is my cat dreaming?

United States
7 responses

• United States
5 Apr 07
Indeed, dogs do this constantly. It is just dreaming. Dogs love to dream they are chasing cats. It is the funniest thing in the world to watch. I do not say cute much but I would have to say that is the only thing to describe watching dogs and cats sleep. It is priceless :)

• United States
6 Apr 07
Yes, I watch my cat sleep, especially if she is next to me. Sometimes she moves so much that she will actually wake me up as well.

• United States
5 Apr 07
Yeah, she's just dreaming. Lightning was sleeping on the bed once and suddenly started rolling around on his back. He was right behind me and freaked me out at first till I realized he was dreaming of rolling on the concrete pad outside that he loves to do alot.

• United States
6 Apr 07
I love it when my cat does stuff like this it just makes me think of how sweet she really is. I have even caught her from falling off the bed when she was sleeping and she woke up (like what's going on) LOL

• United States
6 Apr 07
lmbo..yeah, Lightning done that on occassion. He would hit the floor thou and wake up with a look on his face like 'Huh? What happened? How did I get down here?' lol

• United States
5 Apr 07
Yeah my cat does that also and my dog too... sometimes they also make little noises. I do think they are dreaming when they do that! One time my cat was fast asleep, and he must have had a nightmare because he jerked awake and his eyes were all wild, and his jaw was dropped open like, "Huh?"

• United States
6 Apr 07
LOL that is so funny. I've never seen mine do that but what a sight to see!


• United States
6 Apr 07
I wish I could tell the difference, between the dreams they are having, I can't even tell when they are disturbing or just getting a little more comfortable by rolling or moving.

• United States
5 Apr 07
Katy, my cat, does that. She will also start to meow and grumble in her sleep. The interesting thing that I find is that my cat snores when she sleeps sometimes. I find it comforting and funny at the same time. I have trouble falling asleep if she isn't on the bed.

• United States
6 Apr 07
That is so funny, to know that cat's snore I had heard a dog snore before. But cat's are known to be so quite anyway. Sorry, but if my animal snored that slept with me they would have to sleep in the other room.

•
5 Apr 07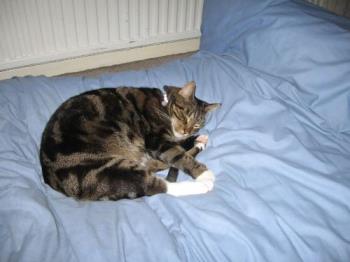 My lovely cat Moomin dreams of catching mice and chasing birds. She will twitch and wriggle while she dreams, she's so funny sometimes too, when I know she is sleeping and dreaming.

• United States
6 Apr 07
I kind of figured that was what they where dreaming about. Because my cat is outside (on nice days) and always in a night. She is a little scaredy cat and would prefer to chase the bugs around. I don't know what she would do if she ever caught anything big.

• United States
7 Apr 07
My cat does that too. I think she is dreaming. Sometimes she whimpers and then I wake her up because I think she is having a nightmare.