Lunch

China
April 5, 2007 7:23am CST
The husband of the brunette said to the other two men,"i packed my wife a turkey sandwich so she wouldnot jump off." they both looked at the wife of the blonde and he said:"don't look at me ,my wife packs her own lunch!"
3 responses

• Philippines
12 Apr 07
Hahahaha, I wonder what should his wife packed for lunch.I hope she will not jump off.Lol

• United States
7 Apr 07
huhhhhhhhhhh? Where is the rest of this joke? they looked at the WIFE of the blonde and HE said? This doesn't even make any sense to me at all. The person who answered before me must be just trying to get the best response! There must be more to this joke.

• India
7 Apr 07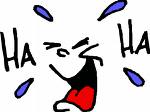 Ha ha ha, good joke. I think this joke was unnoticed by many. Anyway thats ok, happens once a while. Thanks for this wonderful joke. You have made me laugh for a while with this joke. Anyway thanks a lot for making me laugh:)