Sand and Stone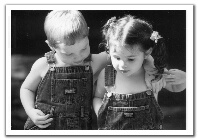 Philippines
April 5, 2007 8:24pm CST
A friend very close to me sent this thought-provoking story. I want to share this with you because you are my friends...i value friendship so much. SAND OR STONE Two friends were walking through the desert During some point of the journey,they had argument and one friend slapped the other one in the face. The one who got the slapped was hurt, but without saying anything, wrote in the SAND..."today my best friend slapped me in my face."They kept on walking until they found an oasis, where they decided to take a bath. The one who had been slapped got stuck in the mire and started drowning. But the friend saved him. After he recovered from the near drowning, he wrote on the STONE, "today my best friend saved my life."The friend who had slapped and saved his best friend, asked him "after i hurt you, you wrote in the SAND, and now you write in the STONE, why? The friend replied, "when someone hurts us we should write it down in SAND, where winds of forgiveness can erase it away. but, when someone does something good for us, we must engrave it in stone where no wind can never erase it."Learn to write your hurts in the SAND and to carve your benefits in the STONE. They say it takes a minute to find a special person, an hour to appreciate them, a day to love them, but then an entire life to forget them. Do not value the things you have in your life, but value who you have in your life. And if i happen to get it back, Then i know my place in your heart.
2 responses

• India
7 Apr 07
i liked the story my friend. it realy touched my heart. i realy learnt some thing but i am jealous of u atleast u have such a friend who is so close to u that he even doesn't hesitate to tell u such kind of story. can i copy this story my friend so that i can read it when ever i want to. i am waiting for ur reply.

• Philippines
7 Apr 07
actually it is for everybody. You can share it others.

• Philippines
6 Apr 07
That was very very nice story. I copied it with your permission and saved it on my file. I will send this to all my frienda and enemies as well (Though I don't have enemy) Thanks ryanphil. O hope you can give more of stories like that.

• Philippines
6 Apr 07
you are very much welcome. i am actually looking for more stories like this which would give us many lessons in life.