Do you think it is critical to tell kids who their biological dad is?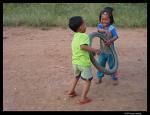 United States
April 6, 2007 3:09pm CST
Do you think it is right to lie to a child about who their dad is? My step dad raised me from 2 years old. I only knew him as dad. He told my mom never to tell me or my brother who our real dad was. When I was twelve my real dad comes around. "I'm your dad" She finally tells me at 12 years old that this stranger is my dad. My real father came around a couple of times when I was 5 and my mom always said that it was my uncle. Needless to say I felt cheated out of a relationship with my biological father. How would you feel?
3 responses

• United States
6 Apr 07
I think a child should know who their biological dad really is. It explains so many things about yourself like why you look the way you look, how tall or short you are, and so many things. I just think it's always good to know your blood relatives. My brother had a daughter that no one knew about until she was about 21 years old. She lived right down the street from us. She is a regular member of our family know. We visit each other. Eat together. Share everything. Hope this helps. Lloyd

• United States
6 Apr 07
I think that its best for the child to know who their parents are but to shield them if theres a reason. Maybe your mother felt that your step father was a better man and just wanted the best for you. I grew up with my dad and step dad. My step father has done so much more for me and my life. He was and is the man I know as daddy. I think thats all that matters is who has been there and who will be there.