What do you enjoy most about being a Parent?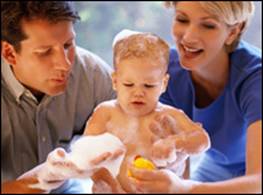 United States
April 6, 2007 10:31pm CST
I see so many people here with problems and asking for help with their kids. I thought it would be nice to hear about some of the things people enjoy about being parents. I am still single, but i want to here some good thoughts about what actually feels to be a parent. Would you mind to share yours?
10 responses

• Pakistan
7 Apr 07
I don't mind sharing rather i love to share he things about my baby boy. It's just 2 month that we had our baby. The feeling to be a parent is something that can't be described by any parent. You have to be to feel it. nobody can explain it. He was from operation and the first time i saw him, he was crying and 3 nurses were just talking to him but he won't stop crying. The moment i reached him and started talking to him, he calmed down al of a sudden and started seeing towards me. It was so wonderful a site. till the time i remained there with him, for 5-10 minute, he remained calm and when nurse signaled me that she is taking him to his mother, i stepped back, and you know what he started crying again and the nurses were saying that he doesn't like his father to go away. He is generally a calm child yet is demanding in terms of time. so yes! he kept us awake, but we never felt any discomfort in it, because seeing him al the time was itself a comfort. he prefered to sleep on my shoulder than in his mother's lap. they have gone back home for some time and will return in a couple of month. so at the moment i am missing them terribly:(

• United States
7 Apr 07
So I think he will probably be a daddy's boy, what a nice experience to be a parent, especially in a new born baby. To see your child in his/her first cry and first laugh that's priceless, happiness on parents faces is overwhelming. Don't you worry, i hope you could go back soon. I know you miss your child so much. Good luck and thanks for the share=)

• United States
8 Apr 07
The part that I enjoy the most is when they are quiet! LOL No really the part that I like the best is the hugs and kisses. Also when my 2 yr old tries to "Mommy me". And the rule that if she ends up going to sleep in my bed she has to give me a hug and kiss and tell me goodnight to tuck me in because I do it for her in her bed. Also my 1 yr old is a nut too. My husband and I joke around saying that the only reason that we keep them around is for comic relief.

• United States
8 Apr 07
Hehehe! really.... just kidding! yeah, it's kind a stress reliever when have a sweet kids like them. Is she the one in your avatar? she's cute!=)

• Canada
7 Apr 07
I think one of the best part of being a parent besides the unconditional love they so freely give, would have to be the fact that kids or at least my kids are natural comedians. I dont think I've ever laughed more before being a mommy.

• United States
7 Apr 07
Yeah and that's really cool, they always make us laugh and smile, even if we have so much problems, just seeing them happy makes our heart to jump for joy. They are the natural medicines for our every day sickness and stress=)

• United States
7 Apr 07
To me nothing makes me feel so wonderful more than hearing one of my children say "I love you Mommy" for no reason at all. I also love seeing the look of wonderment on their little faces when they discovery something new or the excited joyous look when they do something they didn't think they could or have never done before. To be honest there isn't enough room here to touch on all the great things I enjoy about being a parent.

• United States
7 Apr 07
That's absolutely a great experience! I know that every mom like you are very lucky to have the kind of child that you have=)

• Singapore
7 Apr 07
Hi Rockmeister, i have 2 boys aged 3 and 5. I have many good thoughts about being a parent. I enjoy talking to my baby while i was pregnant with them. I love reading to them especially when they are the one to choose the book. I love the whole process of educating my 2 boys. There is a sense of accomplishment when i see the things they can do, understand instructions and the extent of their vocabulary. They are not perfect children, but they sure are UNIQUE in every sense of the word. No job in the world can give you that sense of pride.

• United States
7 Apr 07
Yes, that's absolutely true. I am now sure that being a parent is the most happiest but sensitive experience that you might ever have. Thanks for the share=)

• United States
7 Apr 07
I have a 14 month old son. I enjoy so many things about him, it's hard to pick just one. If I had to pick, though...I think I would say that my favorite thing is when he crawls in my lap and says "Elliott wubs Mommy" and he rubs my face. It's just so sweet. I love kissing him and cuddling with him. And he has the cutest voice and laugh.

• United States
7 Apr 07
Yeah, every parent is overwhelmed with joy about that. You are lucky to have a sweet, loving boy as i saw in the picture. You should be proud being his mom=)

• United States
7 Apr 07
The thing I love most about being a parent is the look on my son's face when he discovers or does something by himself for the first time. It's like pure open joy, I could just sit and look at him for hours. The amount of love you have for your child is just never ending.

• United States
7 Apr 07
Yeah i agree on that, even though i am not a parent, i can still relate because i do have little sisters. I love to see them playing, laughing and the smile on their faces seems priceless to me.

• Philippines
7 Apr 07
im a single parent.. i got a part time job as a drummer in a band.. the best thing about being a parent is my daughter(aged 6) is such an intelligent child.. and shes so sweet... even if im tired after a hard days woork, shes there to give me a big hug and she always goes with me even in my gigs.. we cant live without each other.......

• United States
7 Apr 07
Did you find it hard for your self to be a single mom? You're lucky to have a sweet and intelligent daughter.

• United States
9 Apr 07
There are so many wonderful things about being a parent that it's hard to list just one. One of the best things for me is holding your children close to you, whether it's just to hug them or having them fall asleep on your chest. That always seems to make my heart melt. Another thing is when they are old enough to start telling you they love you. Hearing your child say those words for the first time and each time afterward is such an amazing feeling.

• Etowah, Tennessee
9 Apr 07
For the last week my daughter has been giving me so many hugs!! That is the best part. Most of the responses have been from parents of young children, mine is 10 and my 22 year old son tells me he loves me every time we talk. Those are the best times, when love is given freely!.