If you could repeal ONE LAW, which would it be?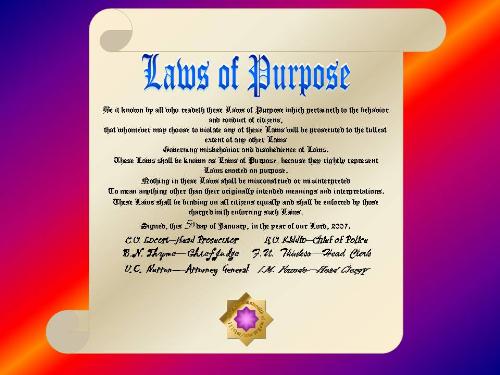 United States
April 7, 2007 4:39am CST
We all know that we have sooooo many laws on the books today that really should never have become laws in the first place, and enforcement is either next to impossible or they're just ignored anyway. Or...perhaps it's a law that somehow really does 'step on Constitutional Rights', but nobody has challenged it yet. Or...perhaps it's just a law you feel is inappropriate, for whatever reasons you might have. What is the ONE LAW you would repeal, if you had the authority to do so?
3 responses

• Philippines
7 Apr 07
If I had the authority to do so, I'd repeal the law criminalizing journalists. I think that if a journalist is found guilty of libel, then I think he or she should just serve community service or pay a fine or make a public apology. I think a journalist should not be jailed for that.

• United States
7 Apr 07
OK...I didn't realize journalists would normally be jailed for something like that. You must know of case(s) where that's happened? It does sound a bit rigid, unless there was some sort of 'malicious intent' (i.e., purposeful defamation of someone's character through fabricated or negatively embellished reporting). If "just the proven facts" are reported without evidence of "personal intent to attack", I see no reason a journalist should be charged with ANYTHING, but...I don't know, it probably happens. Thanks for your post.

• India
7 Apr 07
If I am given a chance to repeal one law, I would prefer to cancel the law of giving power to politicians. Politicians are making the country worst. They are forcing the people/bureaucrates to be corrupt. So power cut is essential for them.

• United States
7 Apr 07
I must say, I'd have to agree with you on this one! Unfortunately, it's all too obvious that 'corruption' is rampant wherever big money is involved...even in charitable organizations and "humanity groups", where it would seem too "sacred" to violate. And, to your point about politicians...they'll continue to wield power and influence as long as there's plenty of money to back them up. Gotta "ban the money machine", I think. Thanks for your post.

• United States
7 Apr 07
I would make it legal for everyone to be married. Not just a man and women, but women and women and man and man. We all can and should be loved. If the word marriage is the sticking point change it.

• United States
7 Apr 07
Thank you for your post. I believe marriage laws may be some of the next laws to go the way of the "Blue Laws", as Society moves forward. Marriage is a highly religious-influenced institution, and our "Civilized Society" is slowly but surely weeding out those kinds of things. I'm quite "mixed" on the thought of removing ALL 'religious influences', because I'm convinced it's the 'religious influences' that have allowed civilization to get as far as it has, without mankind being literally at each others' throats all the time, and people learning nothing but primitive survival and self-preservation, instead of learning the many moral values and lessons that religion has played such a vital part in perpetuating. It's one of those "can't live with it, can't live without it" sort of things, in my opinion. Anyway...thanks again for the post. Thanks again for the post.