Quality of life vs. Quantity of life

United States
April 7, 2007 2:01pm CST
I saw this story on CNN about glabal warmimg today. I'm not going to get into the whole debate on whether or not global warming exists.(Or TRY not to) A gentleman made a comment that the amount of carbon dioxide humans produce is actually good for us, because of technological advances, although harmful to our environment, are allowing us to live longer lives. It got me thinking what about the quality of life we are living? What about the human that has terminal illness and is just using the available technology to prolong the inevitable? Is ruining the environment really worth the quantity of our life span, when in the long run the quality may not be all that great? I understand the earth has gone through several natural environmental changes over thousands of years, but don't you think global warming is a feasible idea?
7 responses

• Manchester, England
7 Apr 07
I cannot see how an increase of carbon dioxide can possibly extend the life of a human being. The oxygen is usually replaced into the atmosphere by plant life, but with the ever decreasing forests on Earth we are already in danger. The gentleman from CNN is welcome to the carbon dioxide, I will stick to breathing oxygen.

• United States
7 Apr 07
Oxygen for me too. Sounds like some kind of cover up.

• United States
7 Apr 07
I think what the gentleman was getting at is that all the high tech equipment we use releases carbon dioxide, but the equipment itself is beneficial to extending human life. Makes no sense to me either, with the way the rainforest is being depleted it's not going to be able to keep up with our CO2 production.

• United States
9 Apr 07
I know there is something unnatural going on with our earth. Snow in California? Some summers in the midwest have excessive heat and drought? Some people don't think that there is global WARMING because they are getting snow, which is cold. Perhaps that cold air from the polar ice cap is being pushed out by warm air in the caps. I just don't know. I am not a scientist. I would really like to have seen that story and know more about that man. Does he work for a technology company? Is he a scientist? The earth has gone through some natural environment changes over the years, but aren't we, the human, creating unnatural changes that are not always in the best interest of the environment? I think so. In the future, our children's children and their granchildren may not even be able to go outside to play because the air quality will be so bad. Perhaps that is a big plus for the technoogical companies. They can stay inside and play with all the hi-tech advances available to them.

• United States
9 Apr 07
The guy is a scientist and a professor, I think it said at the University of Alabama or someplace down south. He was one of 2500 that recently signed their names to a report on global warming, funny thing is he said even thought they all signed the same report he really didn't agree with all of it and it was supposed to be the type of report that was open to interpretation. I'm with you on the global warming theory, I think the freak snow storms, etc...could be because of it too.

• United States
2 May 07
I think that the average person cannot discover the truth about global warming or how much of a threat it really poses to us or the planet. On one hand you have Neo Conservatives and Evangelicals saying that the whole issue is a ruse, and that we should use up as many of the planet's natural resources as we like because Christ is coming back again next week. On the other hand you have the crazy far lefty Liberals creating mayhem so that they can control people's actions, make restrictive laws and squeeze money out of people by raising gas prices and the cost of airline tickets etc. My point is that each political party has it's own agenda, and they plaster their propaganda all over the Internet in order to further their goals. Such agendas are not really focused on the plight of the planet or the well being of ordinary humans. These political agendas are always ecomomic ones in the end. Greed and the thrist for power over others are very powerful motivators. I think with issues such as that of global warming the truth or reality is somewhere in the middle of the two extremes.

• Philippines
10 Apr 07
I don't know the basis of the statement of that man. You know, this debate has been going on for many years even decades. it is only now that verified facts are already coming in a clearer picture of the disastrous effects of global warming. Must we wait to be out of breath to learn this lesson? Even if there is no global warming, our responsibility to take good care of our only earth should really be a paramount concern by everybody. Will you not take care of your own skin? of course you do. The ozone layer is like a skin to the earth protecting us. We destroy that, we destroy ourselves.

• Canada
8 Apr 07
maybe what he's trying to say is that too much of everything is bad. too much CO2 definitely kills, too much O2 is a waste. I don't think he realized that if we want to keep everything in balance, we have to either increase O2 or reduce CO2, since too little of everything is also not good :) just a thought !

• United States
8 Apr 07
Could be . but I dont know about Carbon dioxide being good for us. I do know one thing that the more they build here in Vegas and the more cement the have put in has made this plae alot hotter in the summertime than say 10 years ago. All this cement has made it hoter for the sun just glares of it. I wished they would stop building we have enough in the valley as it is. And we used to have snow in the winter time to 50 years ago when Vegas was smaller

• Canada
7 Apr 07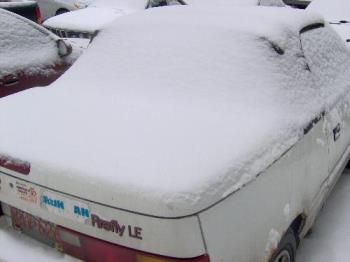 You know, I keep hearing about this supposed global warming, yet I have been freezing my a** off for almost 5 months. I don't think Canada is a big player in the global warming thing and we have been totally forgotten by the sun Gods. I uploaded a picture that I took 'YESTERDAY'!!!Where the heck is that global warming when you need it!!!