Today match-Eng Vs Aus

United States
3 responses

• Australia
8 Apr 07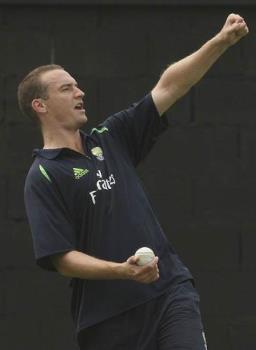 Hello.,ursfriend, I think you are just residing in the states while you are borned in some countries which people like to play cricket there,I do not think people in the US are interested in cricket. Back to the game, Because South Africa had lost to Bagledesh yesterday, that mean England must win in order to go to the super 4, they will try 100% to beat the Aussies or they will have to pack up. Aussies will go to the final 4 for sure, but they do not want to loss, they just want to win all the matches and get the championship, that was what Glenn McGrath said before the world cup. It is expected that there will be rain in Antica,and Stuart Clark is going to play,I am looking forward to watch him bow.

• United States
9 Apr 07
I have passion for cricket and it seems that you have also some passion for cricket. YOur analyzation of cricket just shocked me as you are too good in it. the way you portray the situation impressed me. Now england lost the match against aussies so they have end up with their chances feel sorry for them

• United States
9 Apr 07
yes, you are right . if other english batsmen support bell and peterson then the story would be different. you must be happy as you are from australia and your team won. :)

• India
8 Apr 07
Although I want England to win the match, I feel Australias form is too good in the last few days. Lets hope we have a good game of cricket tonight and I'd love it if the English players could bring the Australian team down to earth!

• United States
9 Apr 07
enlish players were on their way to down aussies but ponting did the wonderful captaincy and used the last powerplay in spectacular manner

• India
8 Apr 07
ya i think that will be a great match up....england beat aussie in the last series before world cup..but aussie is unbeatable in this worldcup so far..they should be stopped..i think england will beat them..! COME ON ENGLAND!!!

• United States
9 Apr 07
well again england got the start buut unable to carry through it. Bad luck for english people