Why can't everyone just get along?????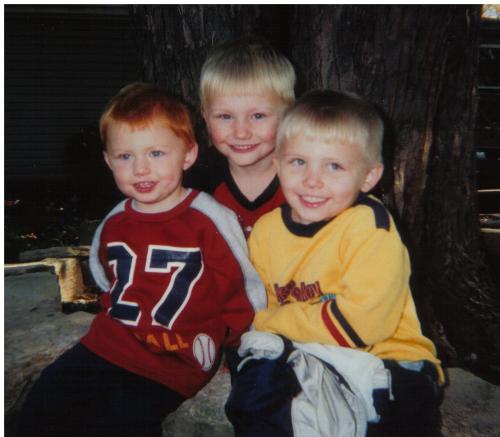 United States
April 8, 2007 7:19pm CST
My kids, my old man, I'm going to lose my mind! Noone can get along. Everyone has to fight over EVERYTHING. It doesn't matter what it is. It's like EVERYTHING is a competition or something. I am at my wits end with everyone. I'm about ready to leave him with all the kids and get my own darn place. I just can't seem to do anything right or do enough. I'm only ONE PERSON!!! My kids are 2, 5, 8, 9, and 12. My old man is 33 going on 2. The 5, 8, and 9 year olds are the ones that fight constantly!! And I do mean CONSTANTLY! The 8 and 9 year old share a room and the 2 and 5 year old share a room. They all have their very own toys and then they have some that they share. But it's still a no-win situation. There are also 4 tv's in this house, an Xbox and a play station and we have 2 computers. They all have bikes also. They all have EVERYTHING that I could imagine that they could want but they still aren't happy. I'm about to have a HUGE garage sale! I know when I was little, my sisters and I (there were 3 of us) shared one room and our room consisted of a bed on the floor and a dresser. No tv's, no radios, no computers, no games, no nothing. We had a few dolls and a monopoly game. And sometimes we had a bike. We never fought like my kids do, so maybe that is the answer...to take everything away. I don't know what else to do. ANY suggestions would be greatly appreciated!Thank you and have a great day:-)
10 responses

• Australia
9 Apr 07
I suggest that whenever two are fighting over a toy, you confiscate it for a certain period. If they are fighting over the TV, confiscate the remote, or the power supply. You need to make the period substantial and never give in to their pleas. This worked for my kids, so give it a try. It sounds as though your kids are spoiled, the more they get the more they want. As for your husband, I've no idea, but you could try stop feeding him!

• United States
9 Apr 07
I know what worked for me when I was groiwng up was my parents took away everything that I loved to play with and that was my punishment. Whatever I apperciated the most, it was then taken away. Maybe you should jsut strip their room down to nothing and see if they liked that.

• United States
9 Apr 07
Try it out and see, Stephanie. Prosperity apparently is not handled well in your household. So maybe a little tough love along with abstainance will handle it. Then maybe your family will appreciate quality time with each other.

• United States
9 Apr 07
I wonder the same thing about why everyone can not get along whether it is someones children, a couple, students at school or anyone else. I think kids are tougher to please now than they used to be years ago. The children want so much more and they have different tastes in toys and food and clothes and more. Maybe you should sell some of their toys to get them to behave. If you tell them you are getting rid of their toys if they do not behave, maybe that will quiet them down. Hopefully you will find a way to get them to listen to you and to behave with one another.

• United States
9 Apr 07
This is totaly normal. I use to fight with my younger sister all the time. Now we are the best of friends. And Im sure they will be too.

• United States
9 Apr 07
Isn't it just amazing? I only have the two kids and my husband at home. They are aways fussing between one another. It just gets tiring. I can't believe with everything they have to do, they have to do whatever the other one is doing. We have 2 tvs, 2 comuputers, an xbox, bikes, and lots of other things to keep them busy. They can't get along not matter what they are doing. I feel for you, I know how you feel. I don't have any problem solving ideas, but you are not alone.

• United States
9 Apr 07
my kids fight all the time too, but when they're not fighting, they are attached to each other like glue. I really don't get it myself. I know how you are feeling though. there are times I want to jump off a bridge (not literally) You can try taking things away, all though that does not ever directly effect my kids.



• Etowah, Tennessee
9 Apr 07
I do like mipen. If they are fighting over it take it away. eventually they will stop fighting, or have nothing left to fight about! I remember my mother putting a curtain down the middle of our room so e each had our own side of the room. I do not remember if it helped with the fighting, but I remember liking having a place to call my own.