Can a woman love a fat man?

United States
October 19, 2006 11:51am CST
Not to steal another question but it was asked can a man love a fat woman? Well can a woman love a fat man?
4 responses

• United States
1 Nov 06

no i dont think i could, i work hard to keep myself in shape and so does my husband, if u are fat that just means u are lazy and dont take care of yourself.

• United Kingdom
1 Nov 06
It's not true that people are only fat because thy are lazy. I'm 3 stone overweight despite always eating healthy, exercising, and walking for at least 2 hours every day so, not to be rude to you, but please don't judge people like that.

• United Kingdom
1 Nov 06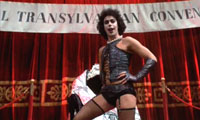 yes I do! I also agree with kerryq, it's true that true beauty is on the inside. I have always found that people who aren't nice people don't seem to look attractive to me even if people think they are gorgeous or whatever, either you are a good person on the inside and it shows on the outsied or you're not a good person and that shows too. It makes no difference how fat or thin you are, or anything else.

• United States
1 Nov 06
Yes, I think that a woman can love a fat man. I know that I could anyways. I look more for what is on the inside than on the outside. I'm attracted to personality and then I am to looks. I'm your ungly on the inside then to me that makes you ugly on the outside it doesnt matter how great you look. Thats my opinion!