Looking for a yummy oatmeal cookie recipe

United States
6 responses

• Canada
24 Apr 07
Grandma's Crispy Oatmeal Cookies 1/3 c Butter (margarine) 1/3 c Lightly packed brown sugar 1/4 c Warm water 1 c Flour, divided 1/4 cup aside 1 c Quick rolled oats 1 ts Cinnamon 1/2 ts Baking soda Cream butter and sugar together thoroughly, then beat in water. Set aside 1/4 cup flour for rolling. Mix together the remaining dry ingredients, then stir them into the creamed mixture. Add the remaining flour gradually to the dough until it is stiff enough to roll. Divide the dough into 3 lumps about the same size. Roll each lump of dough out about 1/8 inch thick and cut into 12 pieces or use cookie cutter. Place on a lightly greased cookie sheet. Bake at 350 F about 10 minutes or until golden brown around the edges. Remove from pan, cool. Store in a covered container. Makes about 36 cookies. Chewy Oatmeal Cookies 3/4 c butter or shortening 1 1/4 c brown sugar -- firmly : packed 1 egg 1/3 c milk 1 1/2 ts vanilla 3 c oats, rolled (raw) -- quick/ : old fashioned 1 c flour -- all-purpose 1/2 ts baking soda 1/2 ts salt 1/4 ts cinnamon 1 c raisins 1 c walnuts -- chopped Heat oven to 375 F. Lightly grease cookie sheet with shortening. Combine shortening, brown sugar, egg, milk, and vanilla; beat with mixer on high speed to blend well. Combine oats, flour, baking soda, salt and cinnamon; add to shorteing mixture and combine until just blended. Stir in raisins and nuts. Drop by rounded tablespoonfuls onto greased cookie sheet, 2 inches apart. Bake for 10-13 min., or until lightly browned. So Good! Amazing Oatmeal Cookies 1 lb Pitted dates 2 c Water 1/3 c Tahini (Old Fashioned Peanut Butter May be substituted) 1 c Wheat germ 9 c Old fashioned rolled oats 2 ts Baking powder 2 ts Baking soda 1/2 ts Salt 2 1/2 ts Vanilla 2 c Chopped Nuts 2 1/2 c Raisin Heat over to 350F. Chop dates in foor processor. Add part or all of the water and blend until dates are pureed. Pour puree and any remaining water into a very large mxing bowl. Add peanut butter and blend well. Add wheat germ, oats, baking powder, baking soda, and salt and blend well. Add vanilla while beaters are mixing the dough. Slowly blend in nuts and raisins. Batter will be very stiff. Blend until all ingredients are evenly distributed. Drop onto non-stick sprayed cookie sheet and flatten with a floured fork. These cookies won't spread so may be baked close together. Bake 12 to 15 minutes. Store in refrigerator. Wonderful healthy, nutritious recipe. Great Oatmeal Refrigerator Cookie Recipe 1 1/2 c Raisins 2 Eggs 1 1/2 ts Vanilla 1 c Shortening 3/4 c Sugar; plus 2 tb Sugar 1 1/3 c Brown sugar, packed 2 c Flour 1 1/8 ts Salt 1/2 ts Baking soda 2 1/8 ts Baking powder 3 3/4 c Rolled oats Preheat over to 375F. Cover raisins with warm water and soak 10 minutes. Drain thoroughly and set aside. Combine eggs, 2 tablespoons water, vanilla, shortening and sugars in mixer bowl. Sift flour with salt, soda and baking powder. Add to egg mixture and beat at low speed 2 to 3 minutes or until smooth. Add oats and raisins and mix until blended. Form into 2-inch-thick logs. Wrap in waxed paper and chill until firm. Slice rolls into 1/2-inch thick slices and place on greased baking sheets. Flatten to 1/4-inch thickness and bake 10 to 12 minutes.Prepare this recipe ahead of time and bake just before the kids get home from school! Low Fat Oatmeal Cookies 1 c Flour 1 ts Baking powder 1/2 ts Baking soda 1/2 ts Salt 2 tb Shortening 1/4 c Applesauce 1/2 c Sugar 1/2 c Brown sugar 1 Egg 1 ts Vanilla 1 1/3 c Oats 1/2 c Raisins Preheat oven to 375. Lightly spray cookie sheet with non stick spray. In large bowl, mix flour, baking powder, baking soda and salt. In a separate bowl, whisk together shortening, applesauce, sugars, egg and vanilla until shortening breaks into pea sized pieces. Add flour mixture to applesauce mixture. Mix well. Fold in oats and raisins. Drop rounded tsp onto cookie sheet 2" apart. Bake for 10 to 12 minutes. Remove from oven and cool on cookie sheet for 5 minutes. 60 calories and 1 gram of fat. Voila, "The No Guilt Cookie"!! No Bake Oatmeal Cookies 1 Stick of margarine 2 c Sugar 4 tb Cocoa 1/2 c Milk 1/2 c Peanut butter 2 1/2 c quick oats 1/2 c chopped nuts Melt margarine, add sugar, cooca and milk, bring to boil - let bubble for 1 1/2 minutes. Add peanut butter, oats and chopped nuts. Mix well. Drop by teaspoonfuls onto waxed paper. Let set in refrigerator. What a treat!! Old-Fashioned Oatmeal Cookies 1 1/2 c Sifted all-purpose flour 1 ts Soda 1 ts Salt 1 1/2 ts Cinnamon 1/2 ts Nutmeg 3/4 c Shortening; soft 1/2 c Granulated sugar 1 c Brown sugar, firmly packed 2 Eggs 1/4 c Milk 3 c oats, uncooked -- (quick or old-fashioned) 1 c Raisins Preheat oven to 375F. Sift together flour, soda, salt and spices into bowl. Add shortening, sugars, eggs and milk. Beat until smooth, about 2 minutes. Stir in oats and raisins. Chill dough about 1 hour. Roll out on lightly floured board or canvas to 1/4-inch thickness. Cut with floured 3-inch round cutter. Place on greased cookie sheets; sprinkle lightly with sugar. Bake 12 to 15 minutes. Just like Grandma's!! Quick & Easy Oatmeal Cookie Recipe 3 Eggs 1 c Shortening 1 c Flour 1/2 ts Salt 1 c Raisins 2 ts Baking powder 3 1/2 c Oatmeal; quick cooking 1 c Sugar Preheat oven to 350F. Pour boiling water over raisins, let sit. Combine all other ingredients together, then stir in raisin mixture. Drop by teaspoonful onto greased cookie sheet. and bake in hot oven. Bake 12 - 15 mins. Quick & easy, delicious!! http://byfaithonly.com/Recipes/OatmealCookie.html


• Philippines
24 Apr 07
Oatmeal Cookie Bars SUBMITTED BY: Suzette Jensten "These bars taste just like oatmeal cookies!" INGREDIENTS 2 1/2 cups dates, pitted and chopped 2 tablespoons lemon juice 3/4 cup white sugar 2/3 cup water 1 1/2 cups sifted all-purpose flour 1 cup packed brown sugar 1/2 teaspoon salt 1 1/2 cups quick cooking oats 3/4 cup shortening DIRECTIONS Preheat oven to 400 degrees F. Grease a 9x13 inch pan. To make Filling: In a saucepan over low heat, combine dates, water, white sugar, and lemon juice. Heat for about 8 minutes, or until thick. Set aside to let cool. To make Pastry: In a large bowl, combine flour, brown sugar, oats and salt. Mix until well blended. Add in shortening until mixture forms into coarse crumbs. Press half of pastry mix into pan. Cover with date mixture and spread remaining pastry mix over the top. Bake 20 to 25 minutes until golden brown. Let cool on wire rack before cutting. Pizza Pan Oatmeal Cookie SUBMITTED BY: Grits "Jumbo oatmeal cookie suitable for decorating like a cake." INGREDIENTS 3/4 cup all-purpose flour 3/4 cup rolled oats 1/2 teaspoon baking powder 1/4 teaspoon baking soda 1/3 cup butter 1/3 cup white sugar 1/3 cup packed brown sugar 1 egg 1 teaspoon vanilla extract DIRECTIONS Combine dry ingredients. Mix remaining ingredients until well blended, then gradually add dry mixture. Stir until well blended. Press out on a lightly greased and floured pizza pan. (if you want to add chocolate chips, raisins, or nuts, press them into the dough once it is spread on the pan.) Bake at 375 degrees F (190 degrees C) for 12-15 minutes until lightly browned. Cool 10-15 minutes in the pan on a rack, then loosen carefully with a spatula. You may leave the cookie in the pan, but if you plan to serve it whole (like a birthday cake), slide it out of the pan at this point and continue to cool on a rack.

• United States
10 Apr 07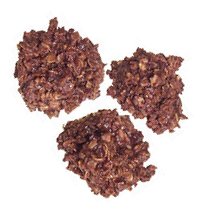 My favorite oatmeal cookie is the No-Bake. Here's the recipe I use: NO BAKES 2 cups white sugar 1/4 cup unsweetened cocoa powder 1/2 cup milk 1/2 cup margarine 1 teaspoon vanilla extract 1 pinch salt 1/2 cup peanut butter 3 cups quick cooking oats DIRECTIONS: 1. In a saucepan over medium heat, combine the sugar, cocoa, milk and margarine. Bring to a boil, stirring occasionally. Boil for 1 minute, then remove from heat and stir in the vanilla, salt, peanut butter and oats. 2. Drop by rounded spoonfuls onto waxed paper. Allow cookies to cool for at least 1 hour. Store in an airtight container.

• Singapore
11 Jul 07
Try these Moist, sugar-free oatmeal cookies 1 1/2 cups rolled oats 1/2 cup oil 2 Tbsp. unsweetened applesauce 4 egg whites artificial sweetener equvalent to 1 cup sugar 1 1/2 cups all-purpose flour 1/2 teaspoon salt 2 teaspoons baking powder 1/2 cup milk 1 teaspoon vanilla extract 1/2 cup raisins, chopped (helps make cookies moist) 1/2 cup chopped walnutsDirections: 1 Preheat oven to 375 degrees F (190 degrees C). Grease cookie sheets. 2 Stir together the oatmeal, applesauce and oil. Blend in the egg whites and sweetener. Stir together the flour, salt and baking powder; add to the mixture alternately with the milk and vanilla; stirring between additions. Finally, stir in the raisins and walnuts. 3 Drop by teaspoonfuls 1 to 2 inches apart onto the prepared cookie sheets. Bake for 10 to 15 minutes in the preheated oven. Makes 3 dozen

• Canada
6 Jun 07
I don't know about raisins, I've never tried putting them in this recipe. But this is the oatmeal cookie recipe that I use and it is delicious. 1 cup butter 1 cup light brown sugar 1 tsp hot water 3 cups oatmeal 1 cup flour Cream butter & sugar. Disolve soda in water and add to butter mixture. Add oatmeal and flour. Drop teaspoonfuls onto greased cookies cheet and bake
@
350F(180C) for 10 to 12 minutes.